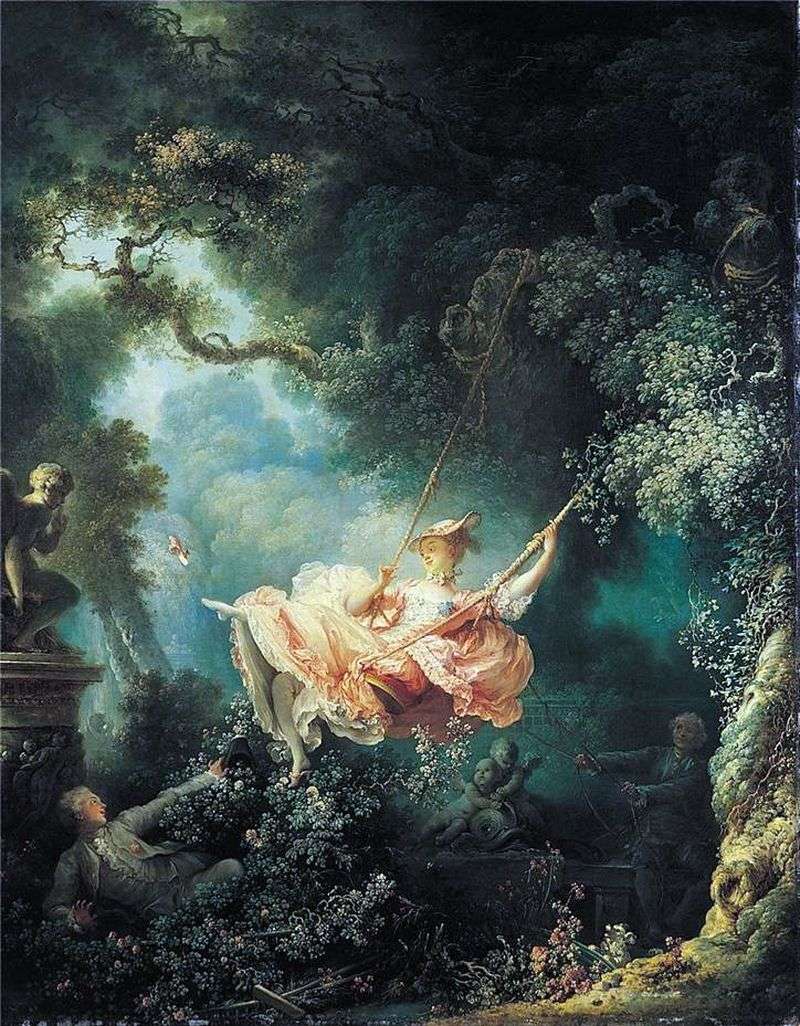 Hilarious, witty and always friendly Jean-Honoré Fragonard worked in the Rococo style – the genre, does not pretend to depth, and called rather decorate interiors and pleasing to the eye.
Therefore painting titled "Happy possibility swing" is imbued with characteristic for this style of lyrical mood, playful eroticism, exquisite details, the ease and elegance of composition.
The plot works, as well as everything else that worked the artist, frivolous, erotic. Young beauty in a magnificent dress pastel tones on a swing. Swing rocking middle-aged man sitting in the shade of the trees.
Each takeoff swing skirts girls go up, exposing her legs in white stockings. Below, among azure colors, it is a girl lover, not accidentally take this very favorable location. Captured ecstasy flight on a swing, she throws the left leg and shoe flies off with it.
Dense and bright garden greens wonderful shades coral undertones at the girl dress. The bright rays of the sun illuminate the track, giving the whole scene a positive light and all-consuming. Young man sitting in an environment perfectly discharged bright garden flowers. Illuminated bright glare of the sun stone Cupid is depicted with attached finger to his lips, as if asking not to issue hiding in the bushes of a young man.
Complement stage two chubby Cupid in an embrace with a dolphin.
The idea of painting the plot is owned by its customers, the Baron of Saint-Julien, who wanted to Fragonard portrayed him in the most favorable place for the girl on a swing legs review. The idea shoe dropped with the foot belongs to the artist himself – this item gives the picture a certain dynamism.
The painting was not for a long time known to the public due to the fact that the Baron did not try to put it on public display.