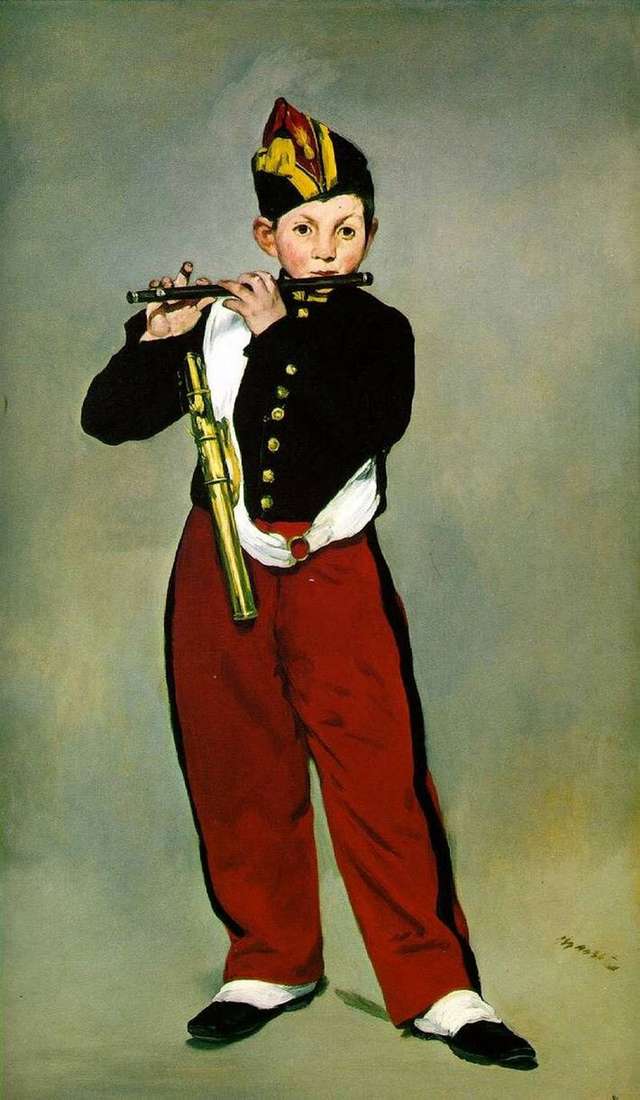 The painting was done in 1866. This great work of the artist. Poetry and rigor are connected in one indissoluble whole. We see a normal boy. He is a child who has a special right st and deliberate importance. He is dressed in red trousers and blue uniform.
The clothes created a sharp contrast of two colors. Manet was very interested in the details of different costumes, which is why many of his paintings appear in various characters of unusual outfits. The artist also loved to dress. How charming this child. Manet's painting is incredibly charming as possible.
The colors are so simple that creates an incredible harmony. The figure
of the boy looks incredibly simple. Environmental hero picture environment is very mysterious. Background almost monochromatic, and the horizon is absolutely not there. Background just evaporated, and the figure of a boy surrounded by an invisible veil. The whole atmosphere is created from something eludes ordinary reality, but this is precisely the true art is born and its incredible poetry. Manet painted in the style of Japanese prints.
Their specificity lies precisely in the fact that the figures were very clear silhouette, and the whole situation was planned around a bit and could only be guessed. The background of this work is absolutely flat, but here and unimportant details of a minor nature. Salon 1866 categorically rejected the work of the artist, considering that it is not so necessary, and the volume of air, and completely lacking perspective.
Critics called the boy's flute hundred jack, which seemed pinned to barely guess the wall. The artist depicted very real flutist of the orchestra, which he specifically posed. It is believed that the boy's face Manet wrote to his son.