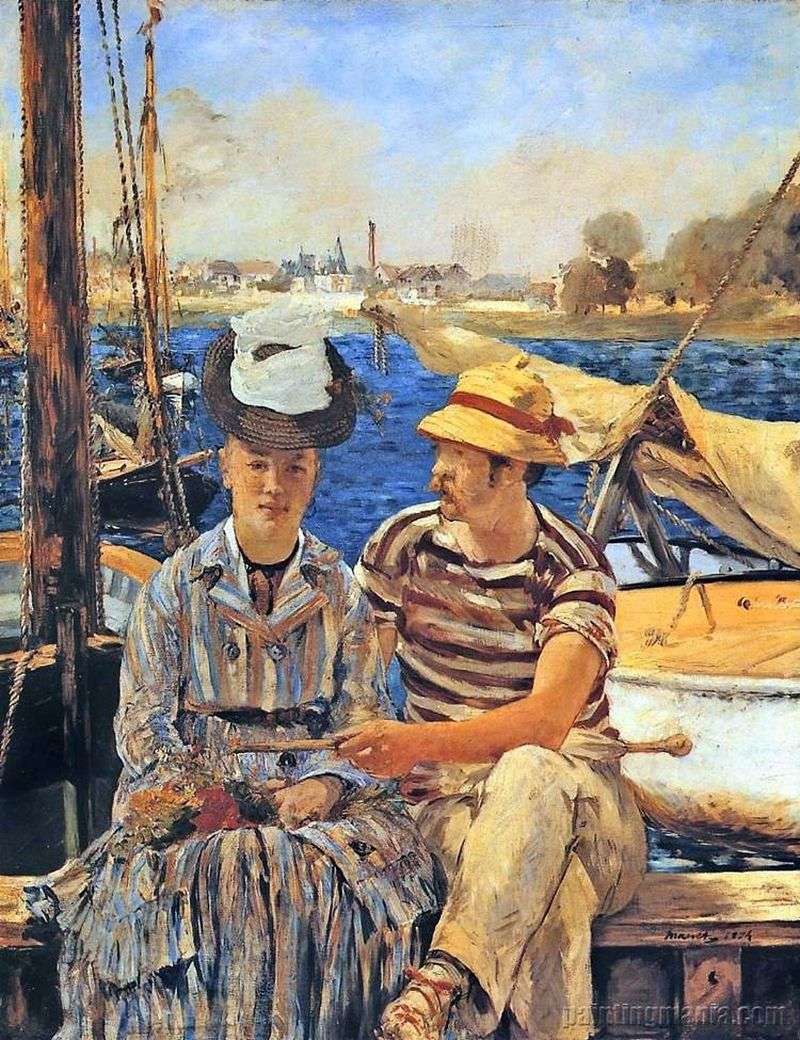 In April 1874 Manet decided to take part in the first exhibition of young artists, who will soon receive the name of the Impressionists. In the summer of yourselves with the same year he went to Monet, located in the River Seine Argenteuil. There he oversaw the work of a friend and discovered the work in the open air. "Music in the Tuileries" and "Breakfast on the Grass" depicting scenes of nature, but were painted in the studio. Impressionists is almost always tried to draw in the open air. While working on "Argenteuil" Manet clock was at one with nature. Influence of the Impressionists noticeable vibrations in texture and lighter palette. However, Manet remained faithful to its aesthetic principles and kept his own style. The attention he pays to persons who proves that he did not become a true landscape painter.
The presence of the plant in the background suggests that he did not move, and on topics related to social life. It does not use, as most of the Impressionists, systematic gradation of tones and shades, and proceeds directly from light to shadow. Also from younger colleagues Mans features a choice of colors.
For them, according to Renoir, "Nature dictates the color," and the artist's task is to fix its infinite variety and display of landscape mood. In color Mans sole task was harmonious incorporation into an artistic space of the picture. From this perspective, the blue color "Argenteuil" is the color of most of the emerging requirements of artistic composition, rather than a real blue, seen in reality. This year the artist's palette is significantly lighter. The contrasts of light and shade is now based on the predominance of light colors. White stripes on the dress of women and men on the shirt of the "Argenteuil" beyond their own path to the neighboring dark colors. Working on the movie "The Boat", Manet thickens blue color of the water, strongly shading it with white rower clothing. This picture also appeared in Argenteuil, during a visit to Monet. Undoubtedly, it was an incentive for paintings by Renoir and Monet on the same topic. But in this case, Manet painting is different from the works of the Impressionists – primarily on composition. Water is omnipresent, it fills the entire canvas. Waves correspond to the curved contour of the boat, and with it depict the movement of the vessel, while the absence of a horizon completely removes the illusion of depth.