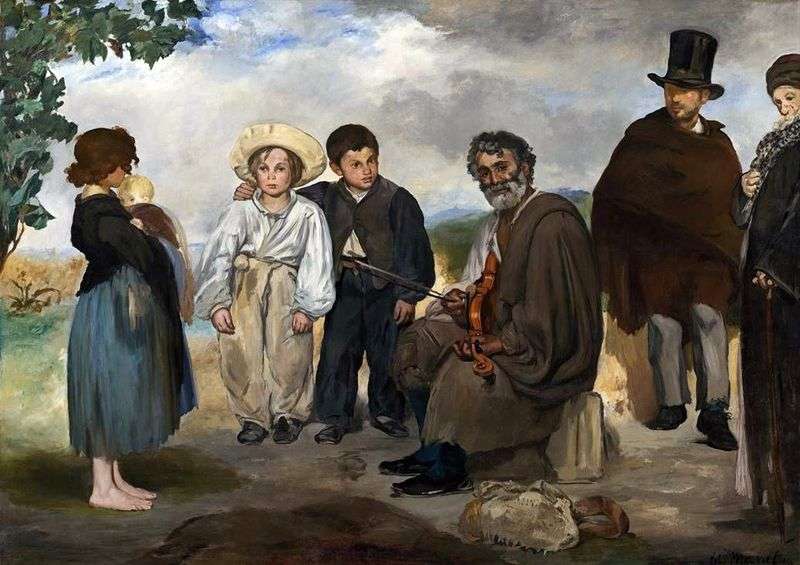 Manet is an artist, beloved by contemporary artists by him – numerous followers who saw him as a model of freedom and modernity: from Monet and Cezanne to Matisse and Picasso. The destroyer of academicism and the ancestor of the new trend in painting Edward Manet used to say: "I painted what I saw."
Emile Zola assessed Mane's style as "a clear and serious painting depicting a nature with a rough affection." "The first impression that any canvas by Edward Mane produces is a bit harsh and tart. We are not used to seeing such a simple and sincere interpretation of reality,"
wrote Zola. By the beginning of the 60s of the 19th century, Manet's work was not yet truly realistic: there was still a certain amount of romanticism in him, especially in the choice of a theme. The artist was capable of such canvases as "Fishing", completed in 1863.
In 1862, Edouard Manet wrote the picture "Old Musician", which depicts a group of people, as if thrown out of society. Among them – the old Jew, in fact, the same lover of absinthe, that in his earlier picture, a little gypsy with a child and two boys. The idealized image of the Artist – an outcast strongly resembles the work of the Lenen brothers who worked in the seventeenth century. "The Old Musician" is the most grandiose composition of Manet: about 2.5 m in length and 2 m in height, in its realism it is equal to Courbet and Velasquez.
Manet's painting is less spectacular, more conservative, but more soul-grabbing, reproduces what the artist watched while walking in the crowded neighborhoods of Little Poland, near his workshop. The prototype of a wandering musician was Jean Lagren, the head of the Gypsy orchestra, who lived in the Paris quarter of Batignolles. The little boy in the center of the picture is possibly the actor of the popular Commedia dell "arte. This picture is Manet's first work, reflecting contemporary Paris, and one of the few where he definitely depicted the poorest sections of society, turning to him earlier than the fashionable world, which will occupy it in later works.