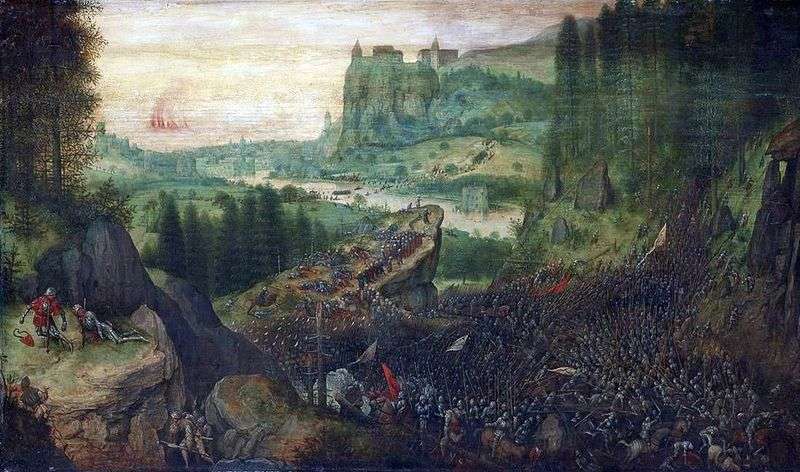 The picture "Suicide of Saul", presumably, was written in Antwerp, since Peter Bruegel lived in this city from 1556 until he moved with his family to Brussels in 1563.
Together with the "Tower of Babel" and "The Fall of Icarus", "Suicide of Saul" was part of a series of paintings of biblical stories, in which pride was blamed. Like most of his contemporaries, the artist depicts the ancient Philistines in the guise of medieval warriors with weapons that are inappropriate to the era of ancient Israel.
Picturing the innumerable number of soldiers, Peter Bruegel attaches a dramatic character to the situation and emphasizes the hopelessness for King Saul. Therefore, it is the army of the Philistines that occupies a dominant position in the plot of the picture, and King Saul and his squire are assigned only a small part of the space in the lower left. Imitating the picture of Albert Altdorfer "Battle of Alexander at Issus," the author uses the same manner of conveying the event from above, depicting much higher. Great attention was given to the transfer of the smallest details, such as parts of the armor and structures in the background.
Saul was the first king of the Israeli people and the commander of the Israeli army. He was chosen by God to reign and anointed by the prophet Samuel. During his reign in all things he obeyed the will of God and led a series of wars with Moabs, Ammon, Idumeans and Philistines.
Gradually, quarreling with the prophet Samuel and departing from the commandments of God, Saul loses the sacred protection and falls into the darkening of reason. During the decisive battle at Mount Gelwuiskaya, he calls for help from God, but the latter rejects him and the Israeli soldiers suffer a devastating defeat.
Saul, being wounded by arrows, turns to his squire with a request to finish him off, so as not to be captured by the Philistines. However, his request was not carried out and the king commits suicide by piercing himself with a sword.