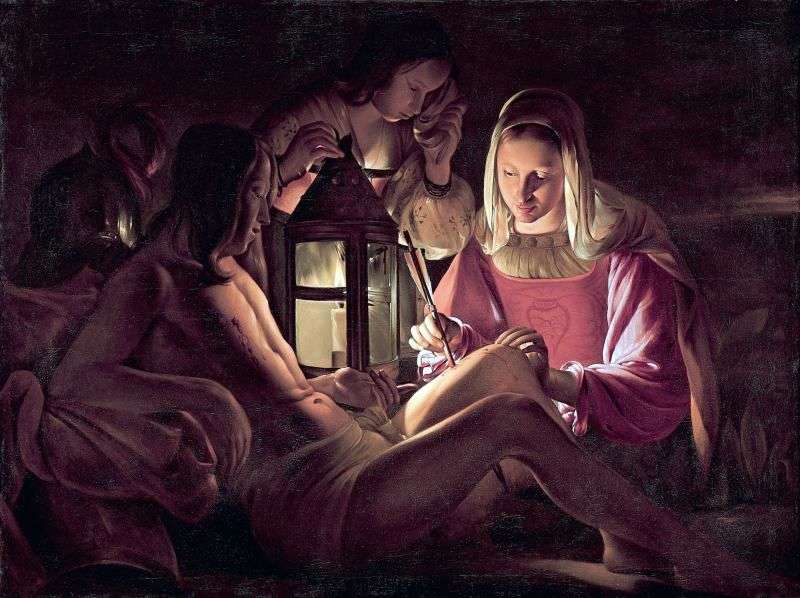 Georges de La Tour is a well-known French living scribe who wrote his works in the genre of "painting of the pee world." For the work of this artist is characterized by a huge variety of images, a wonderful color, the ability in genre painting to depict the majestic and important figures.
At the beginning of his career, Georges de La Tour joined the direction of the Caravaggis who worked in the first half of the XVTI century. They differed from other painters in that they transferred religious subjects to domestic soil. For example, in the style of Caravaggistes, the artist painted "Sharpie", "Fortune Teller". La Tour – an artist of outspoken, genuine and sincere feelings, he owned a kind of writing techniques. His paintings are recognizable due to the presence of very brief generalized forms and the effect of a burning candle, which distinguished the creative style of the artist.
In the 30s-40s, during the times of the greatest creative growth, La Tour less and less often turns to genre scenes, writes mostly paintings on religious themes. Biblical images give the artist the opportunity to more widely illuminate many of the problems of humanity: birth, life, patience, compassion and, finally, death. Examples include the painting "The Upbringing of the Mother of God", "St. Joseph the Carpenter" and others. During this period, elements of the classical style can be observed in La Tura's works: rigor, constructive clarity and clarity, certainty of composition, smooth balance of generalized forms, perfect integrity of outline, static.
The painting "St. Sebastian and the Holy Wives" – one of the late works of La Tour, in it he gives his characters the features of the eternal and supra-peaceful. The image of Sebastian, similar to an ancient sculpture with a perfect figure, is presented in the foreground. Unlike most artists who turned to this story, Georges de La Tour showed only one arrow that pierced his body as a symbol of martyrdom. This technique was borrowed by the artist from the masters of the Renaissance, which served as the ideal for French painters of the times of the assertion of classicism. The work of Georges de La Tura, one of the great painters of his time, had a great influence on the formation of the views and manner of writing of subsequent generations of artists.