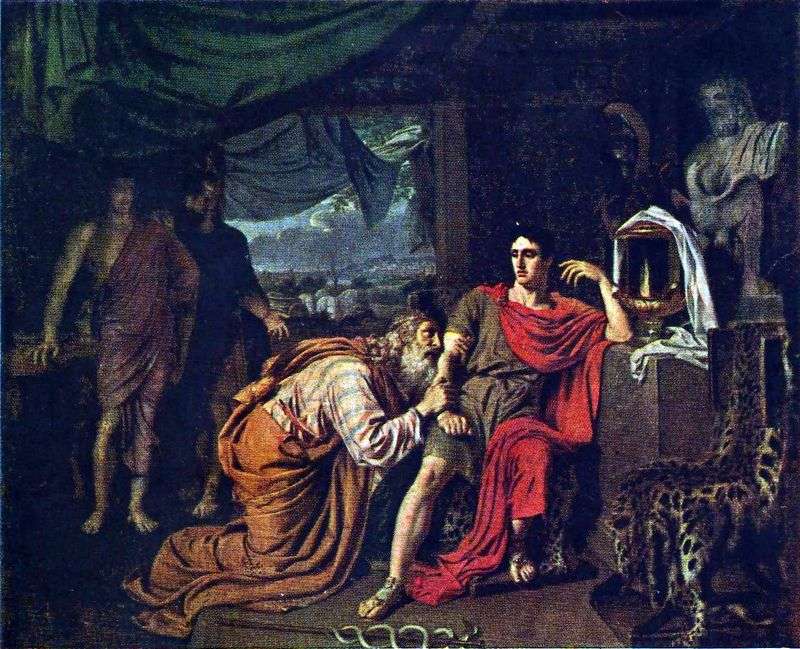 This is the first big picture by the artist at the age of eighteen. This early work was highly appreciated by both the public and the leadership of the Academy of Arts, who favorably favored the picture. Society for the encouragement of artists awarded the author a small gold medal. The theme of the picture was determined by the Academy of Arts. Ivanov was asked to write a scene on the plot of the last, twenty-fourth song of Homer's Iliad.
Priam, king of besieged Troy, enters the tent of the leader of the hostile camp of Achilles, in order to beg for his body the burial of his son Hector, who was struck by Achilles at the walls of Troy. It is known from the poem that Achilles will show generosity and fulfill the request of Priam.
However, the artist chooses the moment when the decision has not yet been taken. Achilles, depicted near the funeral urn with the ashes of his friend Patroclus, who was defeated by Hector, is immersed in deep sorrow. The touch of Priam's hand with difficulty brings him back to reality. He supposedly only woke up from a heavy sleep and did not realize what was going on around him; he does not yet know his decision. Contour of the hand of the lowered hand Achilles repeats the outline of the white drapery covering the urn with the ashes of the murdered friend.
Already in his early work, the artist expands the possibilities of the academic picture, seeking to show the ancient drama in dynamics, when the decision is not made and the outcome of the tragedy is not yet foreseen.