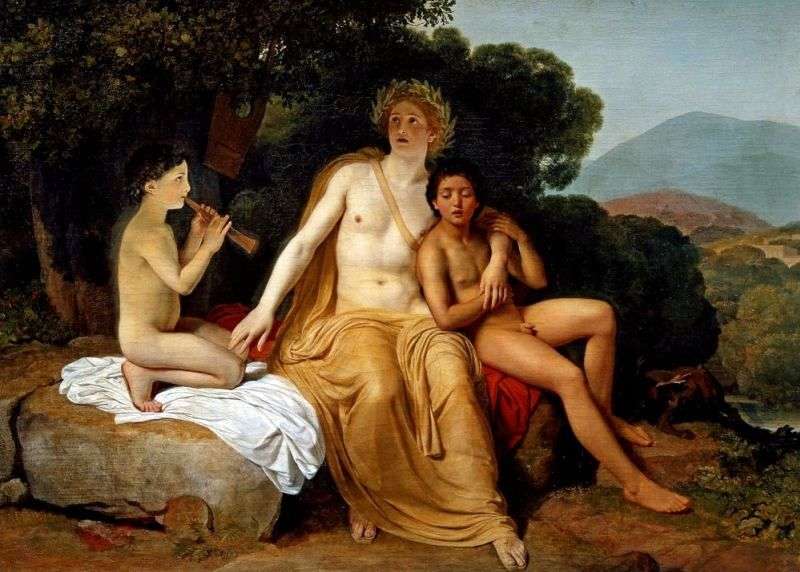 The painting was the first work created by Ivanov abroad and, accordingly, the first result of the artist's contact with the art of antiquity and the Renaissance, with the classical tradition of European art.
Three naked figures resemble ancient Greek sculpture. Following the description of Ovid in "Metamorphoses", the artist portrayed Apollo – the god, patron of the arts, and his young companions – singing Hyacinth and Cypress, playing the flute.
Apollo, Cypress and Hyacinth represent three ages, three kinds of beauty – sublime, sensual and touchingly naive and three steps of man's ascent to perfection. The prototype of Apollo in Ivanov's painting was the famous statue of Apollo Belvedere. To create the image of Cypress, the artist partially used the sketch written from the boy-pifferaro.
Antique characters, illuminated by scattered, golden light, naturally and freely settled among the majestic nature. Working a lot on nature, the artist tried to achieve the synthesis of ancient art and living observations of nature.
It was here, in this not completely completed picture, the most bright side of Ivanovo's creativity was most consistently reflected. The artist painted a picture, which is called "for yourself." Later, having lost, as he said, "a cheerful disposition of spirit", he could not continue working on this topic and therefore left his canvas unfinished. Ivanov's youthful work was one of the artist's most beloved creations.