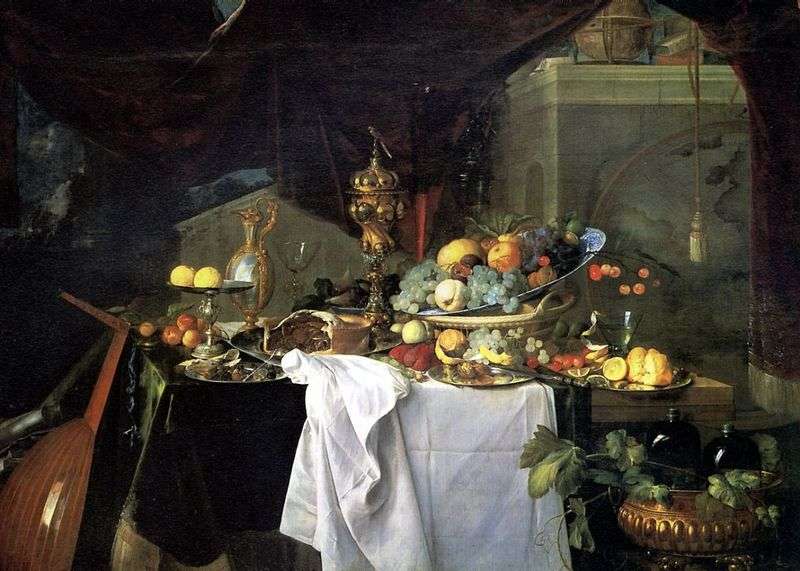 Jan David de Hem is well known as a master of Dutch still life. His works were used during the life of the master by popularity, and after his death the students wrote pictures on the teacher's sketches or simply copied his works. The artist was born and studied painting in Utrecht. He worked in his hometown, as well as in Leiden and Antwerp.
Hema was distinguished by a strong sensitivity to various artistic trends. He began with archaic floral and fruit Dutch still lifes, later worked in the genre of Vanitas, under the influence of the Flemish still lifes of Snyders, the works of Hema also produced an abundance of luxury and gifts of nature. At the same time, the artist always retained the dryish rationality.
In the spectacular spectacle of his works, there is never a place for spontaneity. Luxurious utensils, a variety of fruits, seafood, heavy draperies, various items of exquisite interior – all of this in Heme is impressed in a noticeable order, which is felt, for example, even in the folds of a crumpled tablecloth. Other famous works: "Fruits and a vase of flowers." 1655. The Hermitage, St. Petersburg; "Memento mori", "Skull and bouquet of flowers". Picture gallery, Dresden; "Still life with ham, lobster and fruit." 1660. Rijksmuseum, Amsterdam.