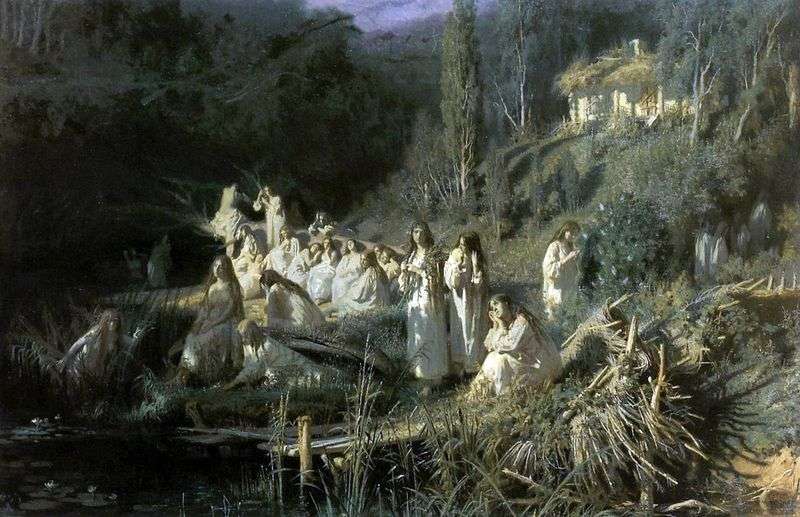 Kramskoy painted the painting "May Night" or "Mermaids" in 1871, based on the work of N. V. Gogol. When creating this picture, the artist needed to plunge into the motif of Ukrainian fairy tales, to their magical moonlit nights, overgrown ponds, as well as mermaids and witches.
The picture shows the river bank. The night, the dark time of the day, this is why people stand out with their contrast against the background of a dark night. In the distance, on a hillock, stands a manor, beyond which lies a forest. On the overgrown shore, on the snag are several daughters-drowned women. Their silhouettes are graceful, but with sadness on their face, they are very beautiful, but no longer alive.
The author paints the picture with soft colors, trying to convey the mood of the moonlight as realistically as possible. Kramskoy not only draws a picture for the story of Gogol, he creates his work, with his main characters, with his mysterious magic, Ukrainian song, confusion and excitement from the boiling around life.
"May Night" according to experts, one of the first paintings that showed interest in folk poetry. I even thought that the characters in the picture are the heroes of the dream that the artist dreamed the night before. I think this work is fantastic, and Kramskoy is a talented artist. Despite the gloom of the work, I'm not afraid for a moment to imagine myself as one of the heroines of this picture. The light of the moon is very romantic and harmoniously fits into the night atmosphere. Moonlight in this picture transformed the surrounding, creating poetic tunes.
I do not need to consider Kramsky's work with Gogol's work. They can exist separately from each other. After looking at the picture, we can come up with our story about the May night, and plunge into the world of fantasy.