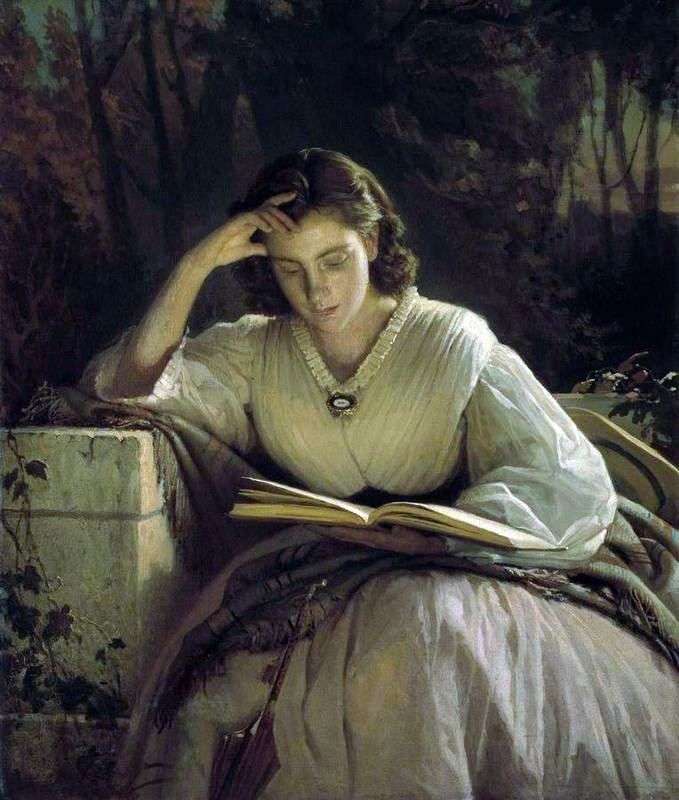 1863 was marked for the painter Kramskoy not only by creating around him a group of artists who refuse to write on the subject academic canons, which soon will be called "Wanderers", but also a marriage to Sophia Nikolaevna Prokhorova.
The evidence of the master's contemporaries has been preserved, which confirm that this marriage was happy and harmonious. Kramskoy throughout his life carried love, respect and tenderness to his wife-museum, having given birth to six children, of whom up to adulthood only four.
Special relationships in the family were due to the fact that often her members often became heroes of Kramskoy's paintings. The artist loved to paint his wife very much, and the most famous painting dedicated to Sophia Kramskoy was the portrait "For Reading."
The painting refers to the early period of creativity, but already here many traits can be traced that will differentiate the style of the master in the future.
A young woman in a beautiful dress appears before the viewer. She bent over the big book, propping her high forehead with her hand – her gaze was concentrated, and her pose relaxed. Surprisingly we are invisible to her view, which can tell a lot about a man, but, nevertheless, we can guess the character of the heroine. Kramskoy wanted to show on her delicate, sensual, soft – such as he loved her. However, the image is not devoid of a sense of dignity and great inner strength.
The picture is harmoniously solved – the main character we find in the garden or park on a stone bench, and dark backgrounds predominate in the image of the background, which makes it portrayed in a luxurious white dress as if it "glows" against a dark background. At the same time the brightest strip of light lay on her calm face. For the depiction of his wife Kramskoy chose pastel pencils – this technique gives the portrait softness, plasticity and tenderness.
The Kramskys lived together all their lives, until the artist's death. Sofya Nikolaevna experienced a talented husband for 32 years.