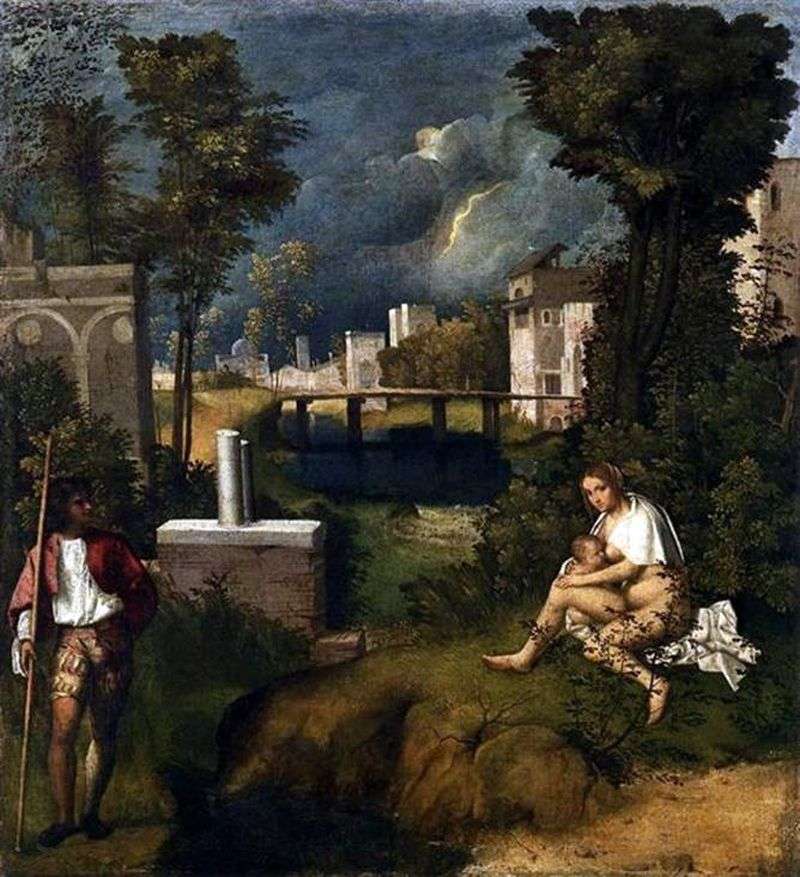 La Tempesta – one of the most famous paintings by the Venetian painter Giorgione. At the current time it is stored in the Galleria dell'Accademia in Venice.
Giorgione did not give the name of this painting. Around 1530, she was made to the Venetian patrician Marcantonio Mikielem, to gather material for the biography of artists as "Landscape on the canvas with the storm, and the gypsy fighter. hands Giorgione of Castelfranco." Due to the ribbed lightning, illuminating the whole scene, the picture remained in history under the title "The Tempest". The painting depicts an idyllic rural landscape with river,
trees and ruins.
Overcast sky flash of lightning lit up, foreshadows an imminent storm. The lady, sit-down on the right, the baby breastfeeds. It is quite naked and only covered her shoulders snow-white matter, perhaps symbolizing purity and innocence. Her rounded belly full of breast feeding and the act, in turn, might symbolize fertility. Yavna and an allusion to the Virgin Mary.
At the bottom left of the picture depicts a man may be a fighter. He is set to contrapposto and holding in his right hand a staff or a very long lance. Smiling, he looked to the left, but it is unlikely that he was looking at the woman. Other researchers have called it a fighter, a shepherd, a gypsy or a bachelor. him Columns can symbolize strength and vsepostoyanstvo, but the fact that they are broken, may be an emblem of death.
With the help of X-ray pictures of the shooting, it was found that the men on the spot Giorgione initially planned to write another naked lady, and the whole picture is written in a few steps.
It seems that the picture is all in anticipation of the storm. The colors are softened. Dominated by green and blue colors. The landscape dominates people. Many researchers believe that the story here is secondary, and primary made Giorgione in the picture atmosphere.
To this day, there is no specific interpretation of this painting. Implies that it can be shown the flight into Egypt, a mythological scene or even Adam and Eve with Cain, who had just been expelled from paradise, symbolized by the city in the background. God is in this case symbolizes lightning and broken columns symbolize death as atonement for original sin. According to Gustav Friedrich Hartlaaba picture can be an allegory of alchemical transformation of base metals into gold with the image of four elements: earth, fire, water and air.