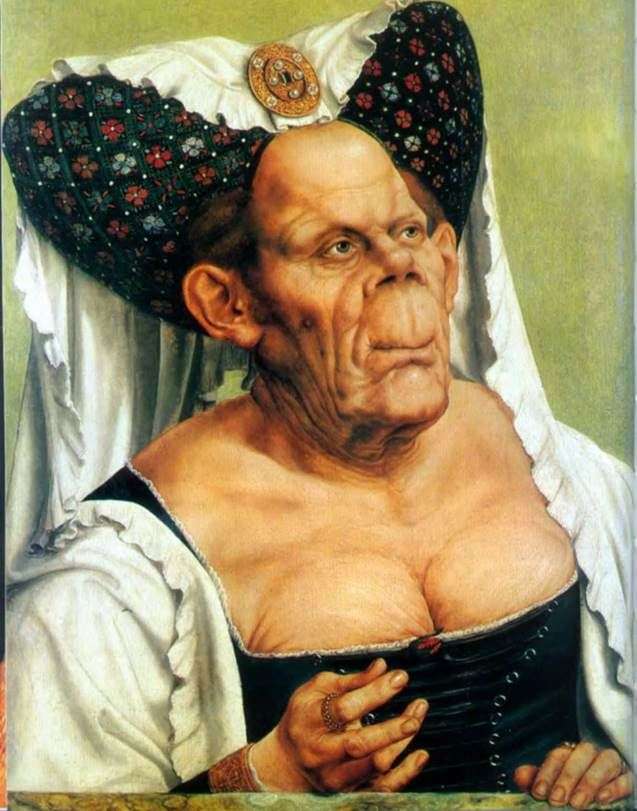 Quentin Mussys – one of the largest representatives of the Antwerp school of painting. With him usually begin the story of the Dutch Renaissance. The picture "The grotesque portrait of an old woman" has always attracted attention, was interpreted in different ways, for a long time as a satire on old age.
In this vein, the fact that Leonardo da Vinci, who had an interest in all kinds of anomalies, made two drawings from her was analyzed. In this series, a much later example is appropriate – the work of B. Strozzi "The Old Yoke" stored in the Pushkin Museum of Fine Arts. A. S. Pushkin in Moscow.
This interpretation is in favor of the flower in the hand of the "duchess", the traditional symbol of impermanence in European painting. But another explanation of the appearance of this work is also possible. As established by physicians, it depicts a woman suffering from Paget's disease – a rare disease characterized by an abnormal bone structure. If so, then the work is not a caricature, but early evidence of the disease, which was studied and described by Sir James Paget only in 1877.
The picture in this case turns out to be both a "monument" and a "document". And if the first is the goal of the artist, then the second is, as a rule, an involuntary consequence of creativity. The perception and appreciation of the masterpiece is largely dependent on the viewer's point of view.