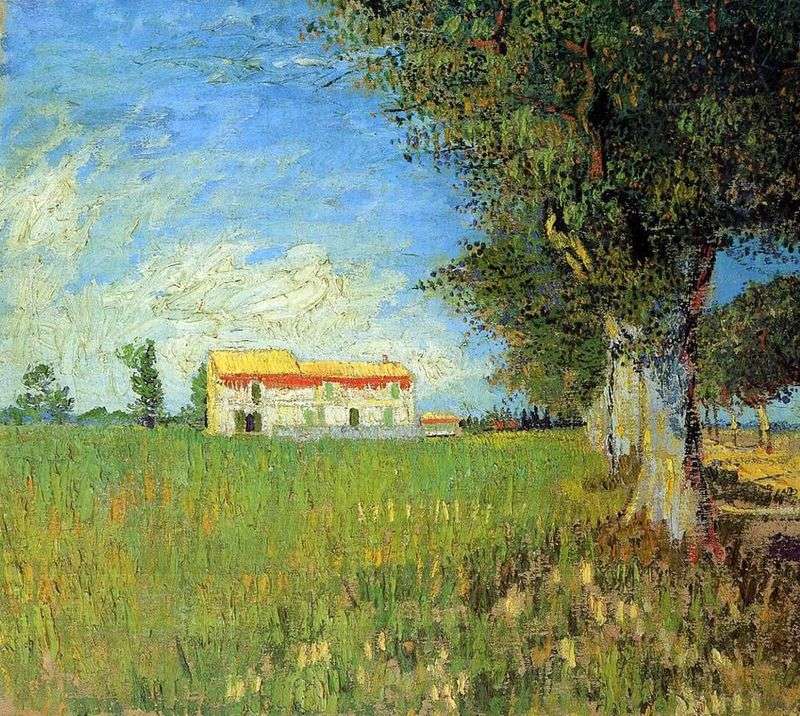 One of the most favorite motifs of the Arles period was the wheat fields that surrounded the town. In this picture, Van Gogh again refers to this topic. He is impressed by the sight of a lone standing farmhouse behind a wide stretch of grass, covered with sprouts of green wheat.
The artist draws an open field of the field, limiting the composition of the picture to the right. The harmonious row of trees that goes into the distance underscores the depth of the landscape and seems to lead the viewer to a horizon with a brightly lit white house. Lush foliage of trees with a continuous wall surrounds the farm
plot, due to which the wide field becomes a small cozy corner.
The whole picture is painted with pure colors that convey the atmosphere of a sunny summer afternoon. The bright blue sky sets the color scheme of the whole picture, reflected in the greenery of the trees and coloring the far field plan with bluish tints. In the foreground, the grass acquires a warmer dense shade, in which light flowers can be seen with light dots.
The game of cold and warm tones best reflects the atmosphere of a bright sunny summer day. Against the background of the blue sky, the yellow-red roof of the farmhouse stands out in a colorful, cheerful accent.