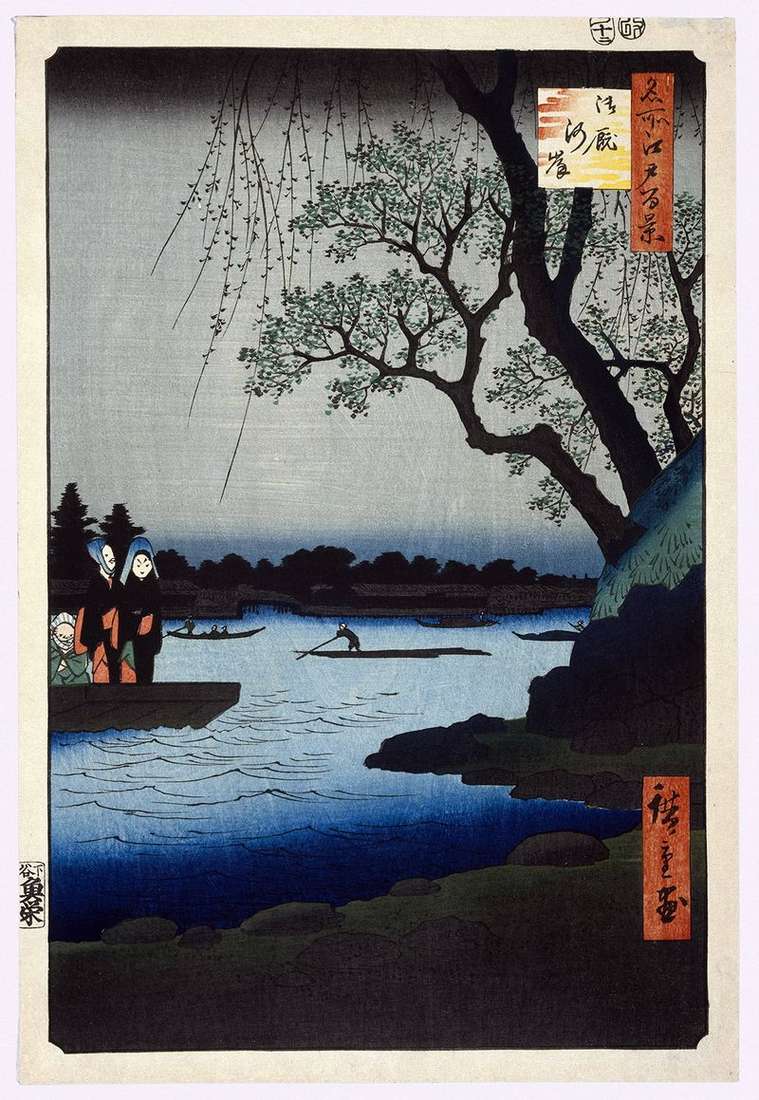 On the right bank of Sumidagawa, between the bridges of Azsu-mabashi and Regokubashi there were Government rice warehouses. In the north from these places, in Miesite, on the banks of the Ommayashigawa, there used to be stables where the bakufu were taking care of horses. Therefore, the crossing between this and the opposite shore of the Khondze quarter began to be called Ommaya-no Watasi. It was the entrance to a busy quarter near the Sansoji temple. The engraving shows a night view of the Sumidagawa River, from the Ommayagasi Embankment.
In the foreground there is a boat carrying two prostitutes of the lowest rank – etaka. With them in the boat their guard – gyu. Women are dressed in a kimono made of cotton, towels on their heads, faces are covered with a thick layer of makeup and look like masks. They were at the very bottom of society, they lived in shanties on the opposite shore of the Khondze quarter. At night they went fishing to wood sheds and temporary shops, which were used only during the day.
The grim night landscape intensifies the chilling of the piercing cold. The dark gray and almost black outlines of the foreground and far shore trees in the late edition of the engraving create a feeling of a deep night. Compared with the initial version – it's a night landscape, in which the red-black kimono of girls stand out as a bright spot.