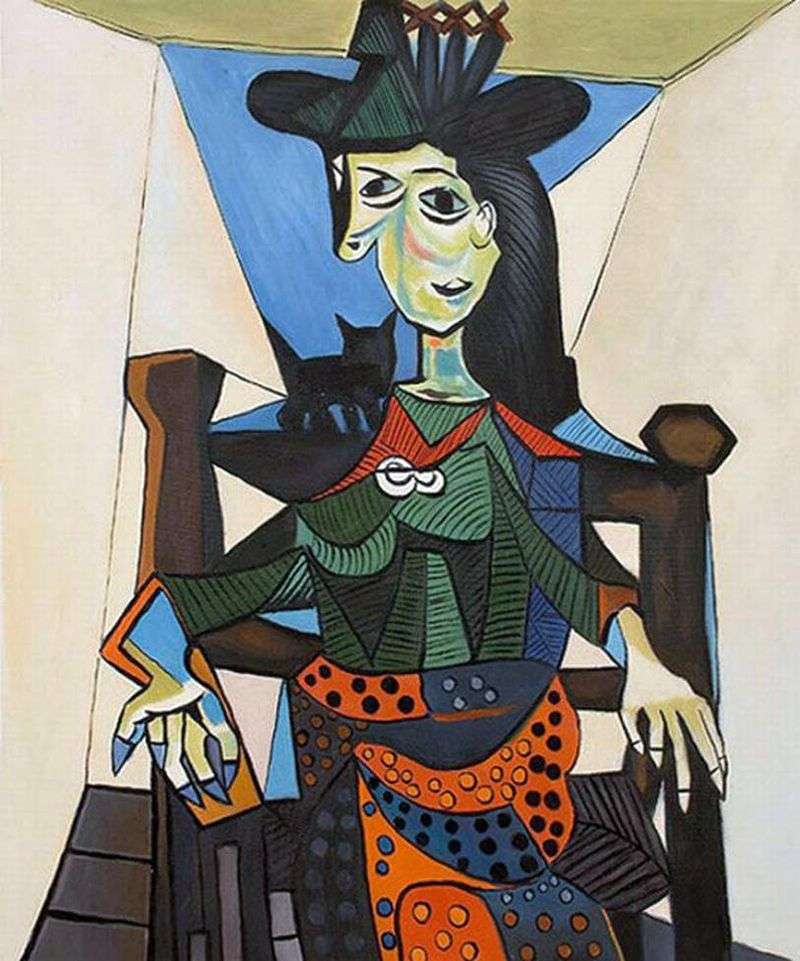 Theodora Henrietta Markovic or Dora Maar is a talented photo artist and another passion for the loving Picasso.
Of all the women, Douro Maar can be called the most brilliant and vibrant. Beautiful appearance, eccentric behavior, unconditional talent combined in this unusual woman. It is not surprising that the artist fell before such an extraordinary person. Their union can be called the union of intellect and creative inclinations. Mademoiselle Maar had a great influence on the work of Picasso of the war period, pushing him to avant-garde trends.
The artist painted the beautiful Maar is always very original – it is sharp angles, broken lines, distorted proportions. In addition to the characteristic features of the image portrayed, common to all works, where Dora is the main character, is an image of all kinds of hats and long nails.
In the presented picture, Maar is depicted with a small black cat, which is very allegorical. It is known that Picasso himself called the beloved Afghan cat, referring to her temperament.
As for the style of the work, it is solved in a cubic manner. The face, as usual, is a deformed caricature. The ear is located under the right eye, the mouth is twisted in a bizarre grin. The entire face is presented both in profile and in full face – the "corporate" portrait style of Picasso.
Behind the figure of a woman is a black cat. A harmonious simultaneous image of a cat and Dora can be represented as the embodiment of sexuality and cunning with a fiery temperament and creative aggression.
Looking at work, one can imagine that the feelings that Maar caused the master were very diverse and contradictory – from adoration and admiration to irritation and intolerance.
Together with the end of the war, the relationship between the artist and Dora also ended. And they sat down first survived the separation easily, then for the photo artist this event was a turning point. She didn't recover until the end of her life, settled in a psychiatric hospital, and after spending quite a long time in it, she left otdula as a broken, deeply unhappy man.
After Maar's death in 1997, the artist's archives threw society into shock – so obvious was her underestimated talent and identity during her lifetime. In addition, many documents were found that captured the process of creating Picasso paintings. Now these priceless artifacts are in the Pablo Picasso Museum.