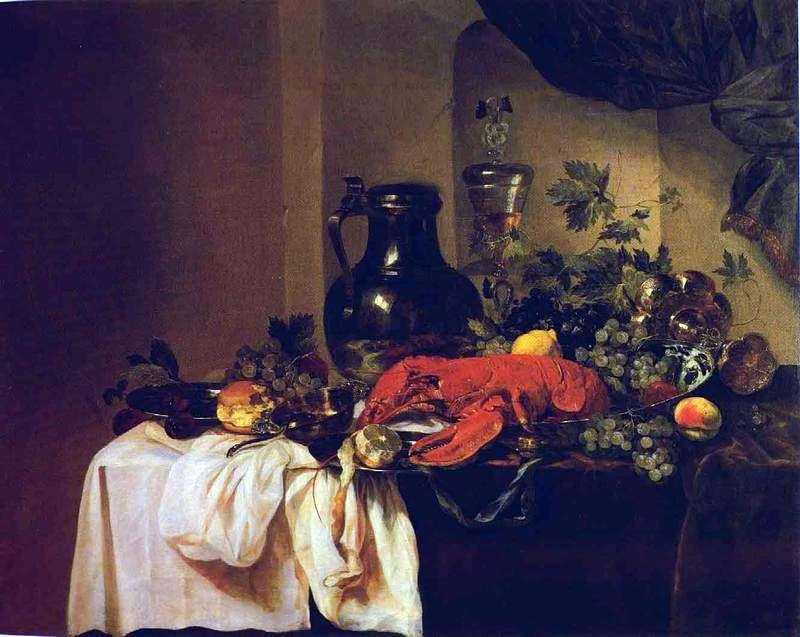 One of the greatest masters of the Dutch still life of the XVII century. Abraham van Beieren was born in The Hague and presumably studied with the master of the still-life P. de Piutter, whose daughter married a second marriage. In 1640 A. van Beieren became a member of the Guild of Painters in The Hague, and in 1656 – one of the founders of the society of painters "Confreria pictura".
However, his works were not popular with contemporaries, the artist had to move from city to city, the last of his haven was Overshie near Rotterdam. A. van Beeren wrote flowers and fruits, beaten game, still
lifes of the Wahls type, numerous "breakfasts", in which, from a modest set of objects, he gradually moved on to the image of luxurious tables with exquisite rich dishes, exotic fruits.
Most of all, the master is known for still lifes with images of fish and "seafood", which is one of the main sources of welfare for Holland. He painted still lifes with fish and seascapes, wrote fish with crabs, in baskets and on a table. His works are picturesquely free, devoid of moralizing and moralizing symbolism, characteristic of the Dutch still life. Other famous works: "Breakfast." 1642. The Pushkin Museum. A. S. Pushkin, Moscow; "Dessert". Rijksmuseum, Amsterdam; "Fish on the table," "Fish on the shore," "Fish in the basket."