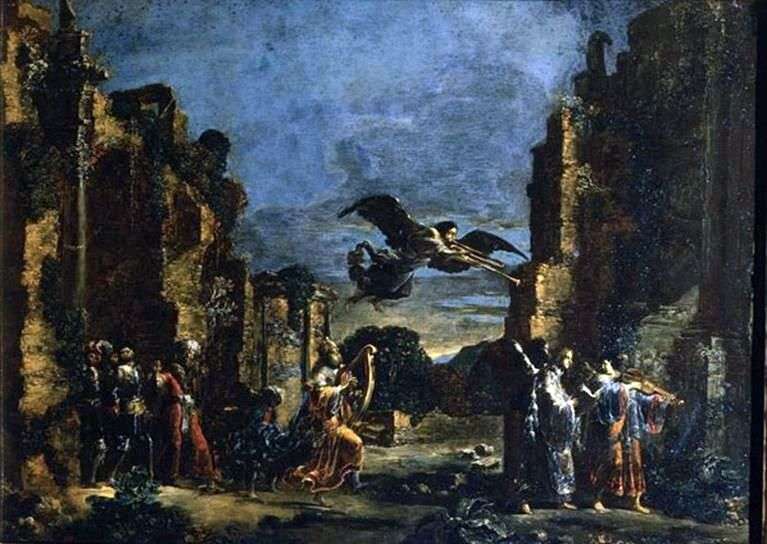 Bramer often wrote small works with unusual lighting techniques and effects. Later, having fallen under the influence of Rembrandt's works, he managed not to lose his style of writing.
In the collection of Prince Dolgorukov in St. Petersburg in 1912 was a copy of this picture of a smaller size, filled with copper.
The composition, in which the influence of Adam Elshheimer experienced in Italy is clearly felt, was apparently created already after his return from Italy, where the artist lived in 1614-1628. To date, however, many scientists suggest 1628-1630 years.
In the picture among the
ancient ruins we see the outlines of the famous Roman temple of Vesta. Through the colorful layer, a dark soil emerges, sometimes making indistinguishable individual tones.
The plot of the picture, apparently, is connected with the above-mentioned biblical story about the transfer of the ark of God to Jerusalem, although it can not be seen as an exact correspondence to any of the episodes of the text. In the first of them, the procession with the ark appears under the sounds of musical instruments, on which the king himself and all the people walking with him play.
Then, after the death of a man who accidentally touched the ark, the procession is interrupted, the ark is three months in a temporary shelter, and only after that King David dressed in linen clothes, again becomes the head of the procession and, entering Jerusalem, jumps and dances in the name of God, for which he is reproached by one of his wives. Bramer, in all likelihood, combines two episodes, and the surprised gestures of spectators compel us to recall the motive of condemnation; In addition, the master introduces into the composition of the angels not mentioned in the text.
This freedom of interpretation of the topic is not perceived as something unusual in the context of Bramer's art, a person of broad interests, the author of frescoes and the illustrator of Spanish literature. In his work, you can find many examples where the scriptures are depicted in the same bizarre surroundings of the ancient ruins, in the twilight or at night, with flashes of mysterious light – among several examples.