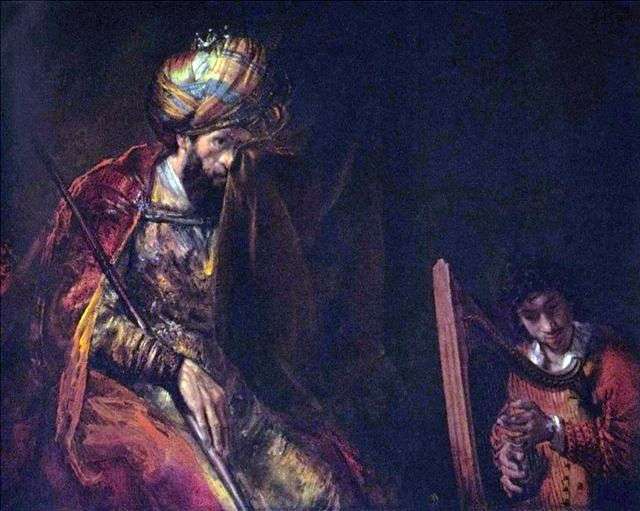 Rembrandt Harmensz van Rijn – the greatest Dutch painter, embodied in his works a realistic reflection of reality, spirituality and deep individualization of phenomena and images. With unsurpassed skill and the highest ideological content, he worked in various genres. In his work, he managed to reflect the historical, biblical and mythological genres, and also worked in the genre of portrait, still life and landscape.
Most famous are paintings of the biblical genre. One of these pictures is "David Plays King Saul." The shepherd David became the squire and harper of King Saul. More became
known as affixed musician.
Melancholy overpowered the king, and only the game of David on the harp saved him from this state. The painting represents the moment when David plays the music on his instrument, and King Saul thoughtfully listens to this beautiful music. The king's figure occupies most of the picture, which indicates its importance and significance. He is dressed in national oriental royal clothing, with a turban on his head.
Red mantle, speaks of his royal power. He sits in a relaxed calm posture. Saul, with a renounced gaze, tries to distract from the melancholic state. On the right in the picture is David, playing the harp. His figure is not as significant as the figure of the king. But if you look at the musician, you can see on his face that he not only enjoys playing the harp, satisfying Saul's wishes, he is cunning and smart.
While the king is in a state of peace, David thinks about how to defeat Goliath and become the king of the Israel-Judean state himself. The coloring of the picture is warm, typical of Rembrandt painting. On a dark background, the figures of the characters look realistic. This is a great work of the artist, proving his skill, as a painter, and master plot plot.