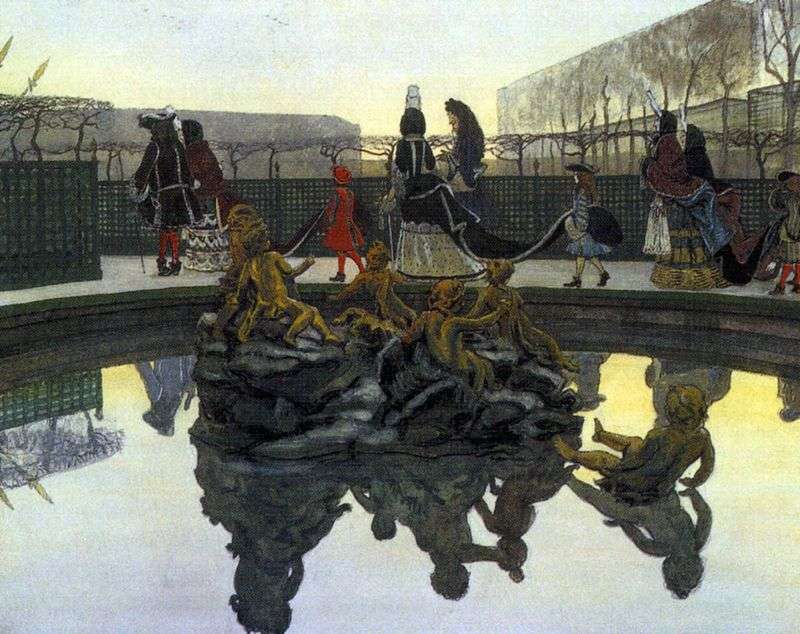 Benois was an artist, theorist and critic of art, his pen belongs to many monographs and studies devoted to both the masters of painting and the history of art in general. Creativity Benois-artist is mainly devoted to two themes: "France era of the" King of the Sun "" and "Petersburg XVIII – the beginning of the XIX century," which embodied in a certain form of historical painting, creating a special "retrospective" view of the past.
Describing the King's walks, the author did not ignore the attention: no park views with garden architecture, no theatrical performances, very fashionable in ancient times, no domestic scenes, drawn after a thorough study of historical material. "Walk of the King" – very impressive work.
The spectator meets with Louis XIV, strolling about his offspring. In Versailles, autumn: trees and shrubs discarded the leaves, their bare branches look lonely at the gray sky. The water is calm. It seems that nothing can disturb a quiet pond, in the mirror of which both the sculptural group of the fountain and the ceremonial procession of the monarch and his entourage are reflected.