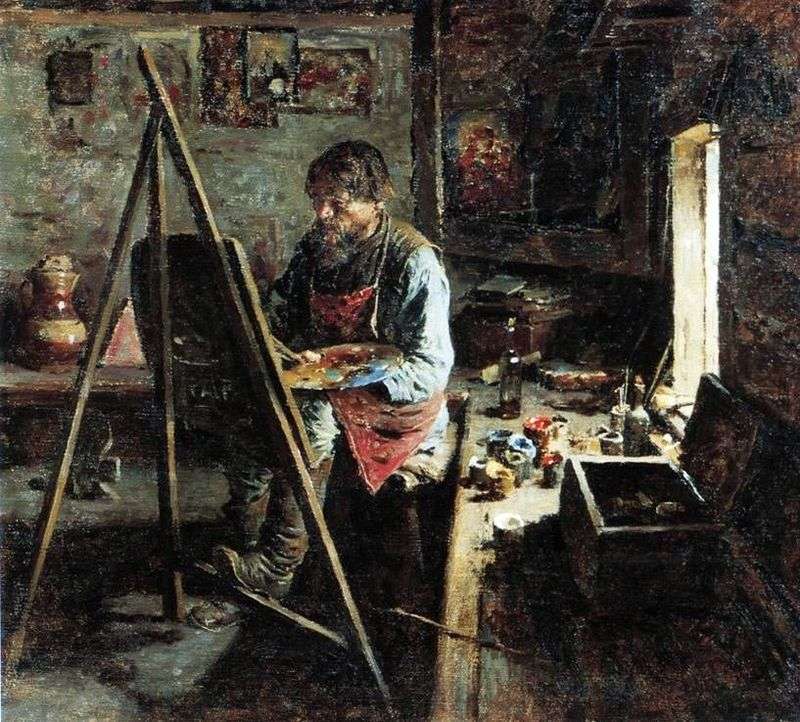 In the foreground in his painting "Village icon painter" AE Arkhipov depicts a poor village artist. He sits in front of the window and paints the icon. From the tiny window into the small room the sunlight hardly penetrates. On the wide window-sill, more like a bench made of boards, the master spread out his tools.
Here is a chest, in which, thanks to an open lid, accessories for drawing are viewed. Next to the chest are colorful cans of paint and several jars with brushes of different sizes. Nearby is a jar of oil, used as a solvent for paints. On the edge of the windowsill lies a brush, slightly dangling.
The artist, slightly hunched, sits on a wooden stool. He wears a bright apron, so as not to stain clothes with paints. In one hand the icon-painter holds a palette and brushes, and another draws on a canvas. The artist himself is no longer young, as indicated by the thick beard on his face. A concentrated look indicates a painstaking and long work.
His left leg was placed on the crossbar of a self-made easel. Behind the artist, on the opposite wall hang the icons he painted. Below them is a small shop, on which there is a rather massive vase. In the corner, under the biggest picture is the curbstone, where the books are.
Looking at the picture, it seems as if you fall into the intimate world of a creative person. After all, the viewer has a great opportunity to observe the process of creating a masterpiece.