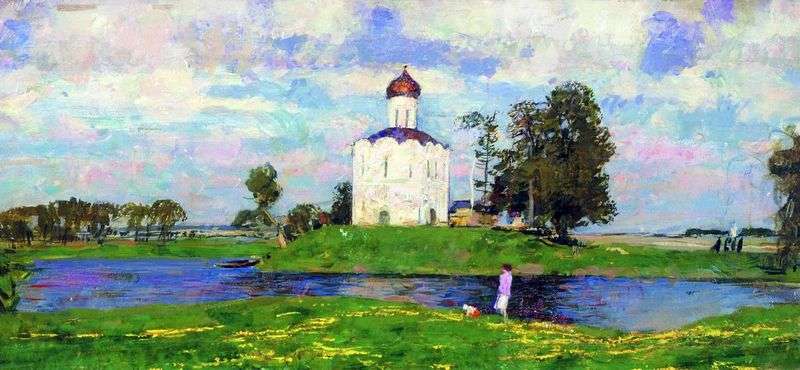 Doctor of Art History Sergey Vasilievich Gerasimov is also a famous national artist and painter. All his love for nature, namely to the landscapes native places, he showed in his paintings. "The Church of the Intercession on the Nerl" refers specifically to such works. The church itself was built in the time of Andrei Bogolyubsky. The legend says that the prince was very sad after the death of his beloved son, who died fighting in battle, and in memory of him built the church. It is built on the banks of the Nerl River and simply fascinates everyone with its beauty. Sergey Gerasimov did not remain indifferent
to such beauty.
In his canvas "Church of the Intercession on the Nerl" the author singled out the most honorable place in the center of the canvas, among the beautiful nature. The whole picture just shines with the brightness of the flowers. They are all so saturated that it seems that the whole picture was covered with sparkles. The author painted the grass with a bright green with yellow color overflows. The water in the river is blue and blue, it simply attracts with its purity. The sky is bright blue and covered with white fluffy clouds. They do not overshadow the bright day, but, on the contrary, give a certain mystery and mystery.
The church itself is clean, bright, white, only the roof and domes are cast in gold. Another author depicted a young mother with a child on the beach. The girl was playing and collecting flowers, and my mother was just there. This detail fills the whole picture with kindness and warmth. It symbolizes the combination of a miracle and reality in a holy place.
Peace and pacification comes from the canvas of Sergei Gerasimov about the Church of the Intercession on the Nerl River. The majestic church stands proudly on the hill and protects the stifled peace of the parishioners. The feeling of calm and protection is felt by everyone who looks at this wonderful Church of the Intercession on the canvas of Sergei Gerasimov.