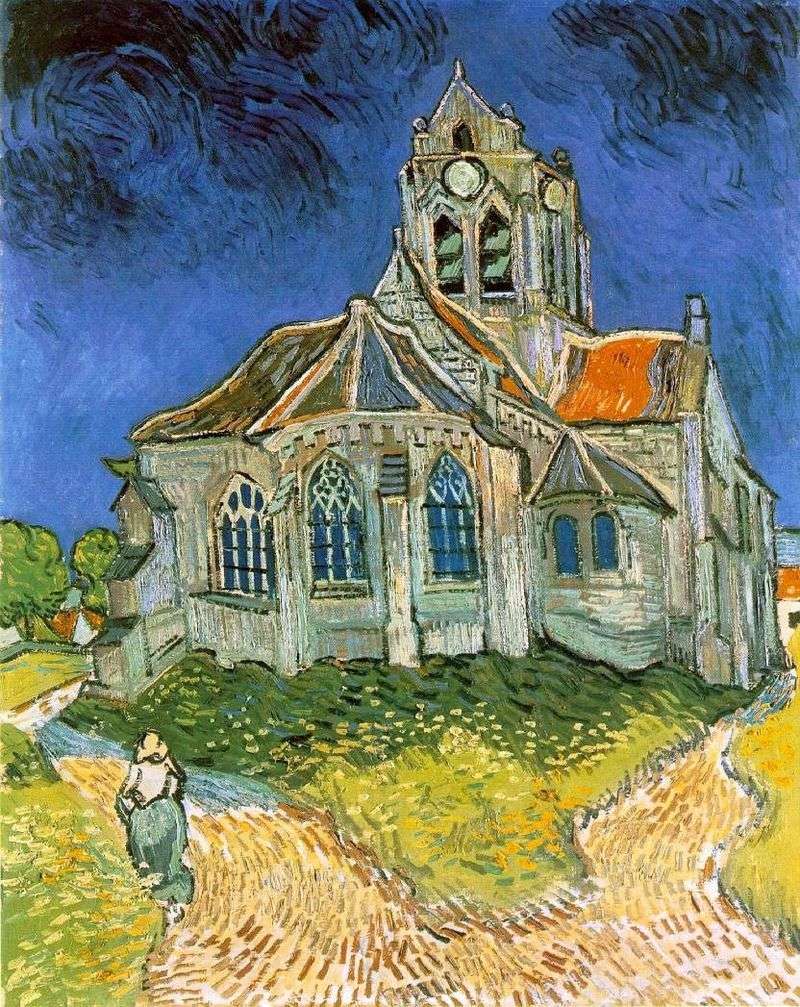 The painting "The Church in the Over" was written in the last year of Vincent Van Gogh's life. In 1890, he moved to Over, a village near Paris, where he died in a couple of months. There, this canvas was created.
The main object of the whole picture is the church, which is depicted very believably. This is proved by real photos of this church. The artist clearly traced every architectural detail of the building, every corner, every window, even the grilles on the windows were not ignored. Such concern for details indicates that this place was close and important for the artist, perhaps he often visited him, so he knew all his details so well.
An important detail of the picture is also the road that surrounds the church from all sides. On this road a woman goes to prayer. It is not so important in the plot of the picture, so Van Gogh did not pay attention to detail and depicted it fluently and sketchily. A lot of space in the picture is allocated to the vegetation surrounding the church. All around it there is a green grass and a clearing dotted with flowers. Like many others, this picture is very colorful and saturated.
The color of the sky confuses the viewer, it is so dark that it seems as if the night is in the picture, if you look into the church windows, you can see only the darkness there, but the other details are in the light, so it's very difficult to draw a conclusion about the time of day. But even these things do not make this landscape a failure. This uncertainty is the highlight of this work.
The church itself is depicted in a large number of different bright shades. Too many colors for such a quiet and quiet place. The vegetation surrounding the church, the road, all this also shines with bright colors. All this makes the landscape unnatural, which spoils the impression of the picture, but still this canvas causes more positive emotions.