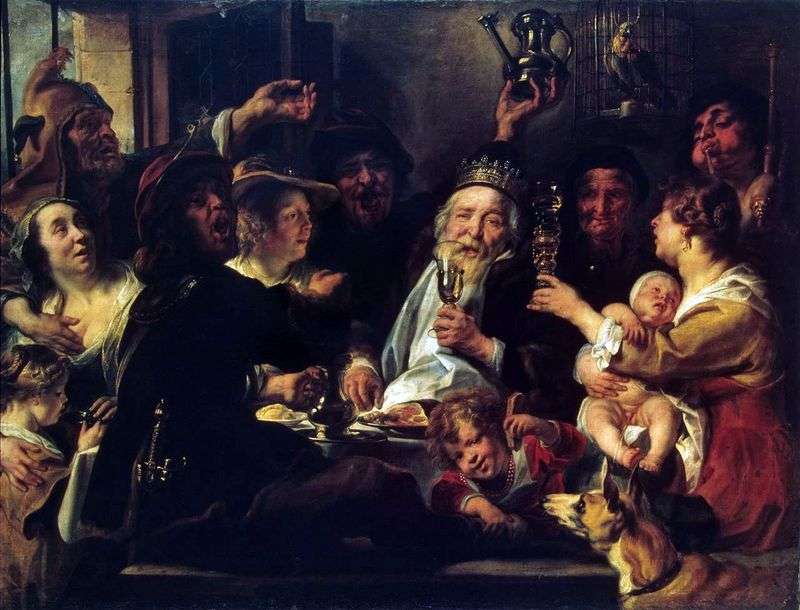 According to the traditional Dutch custom, on January 6, on the day of the "Three Kings", a bean was baked in a holiday cake. The one who got a piece of pie with him became the "king" of the holiday. He put on a sham crown and he chose his "queen" and appointed "staff of the court" – from the minister to the jester. All obeyed the "king" and drank at his command. In the XVII century, during the time of Jordan, such feasts began in the afternoon and dragged out after midnight.
The theme, which gives an opportunity to show strong and healthy people, having fun in a relaxed atmosphere, repeatedly attracted the attention of Jordan. There are about a dozen of his paintings and drawings on this subject. The Hermitage copy, dating back to the heyday of the artist's work, is one of the best.
The picture of Jordan is full of joy of earthly existence and an abundance of vitality. Feast in full swing. On a cry: "The King drinks!" all draining glasses. Old people and children are drinking, convention and decorum are forgotten, reveling reigns. The artist conveys this rude scene, without embellishing or softening anything, he feels that he frankly admires it.
Large, almost full-size figures of people are pushed to the front edge of the picture, the looks and gestures of some of the characters are addressed to the viewer, as if drawing him to participate in what is happening. It seems that we hear loud singing and laughter and as if sensing the proximity of these heavy, powerful bodies. Interdigitating, colliding motions of figures, as well as black and white contrasts, increase the impression of dynamics. The whole group is illuminated by the golden evening light, bright brown, red, pink tones of clothes, hair and faces creating a sonorous symphony of colors flash with special intensity. The scene of the usual feast is perceived by the viewer as a statement by the artist-realist of the beauty and significance of earthly existence.
Painting "Bean King" entered the Hermitage from the collection of the Academy of Arts of the USSR in 1922.