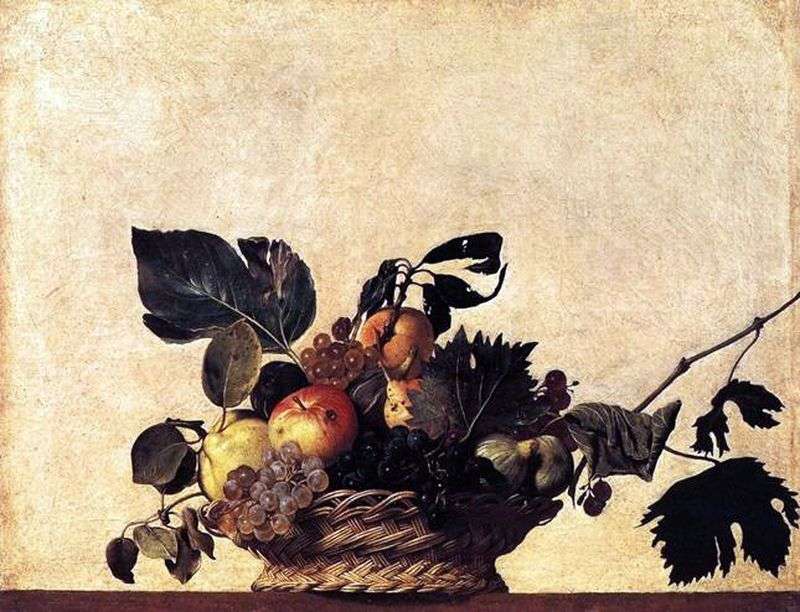 The artist depicted a basket full of fruits of the earth: and here the hand of ripe grapes and many fig trees, there are apples and pears. Fruits with leaves ripped off and not glossed over, are already visible signs of decay and rot, the leaves turn yellow, wither and wraps. all naturally in nature.
Naturalistic painting to the illusory nature of baskets and fruit hanging from the edge of the table and how to "fall out" at the viewer – we become complicit in the image. Emphatically lifeless background with a complete lack of parts, and occupies most of the space, completes the author intended.
In this work by Caravaggio everything in life – everything flows and everything changes, replaced the lush freshness comes the inevitable decay and death. Master does not stop only at the most accurate picture of nature, is the first noticeable tense game of light and shade: bright light at the top left smoothly into the shadows at the bottom right – a recognizable later Caravaggio!
Such attention to the still life in his works Master showed the audience more than once: "Boy bitten by a lizard" 1595 g. , "Bacchus' 1595 g ," Supper at Emmaus ". 1601 g.
Caravaggio in their creations is not a simple contemplative nature, he is the creator of brilliant pictorial language, his works depicting the struggle of life and death, seeker of truth and justice.