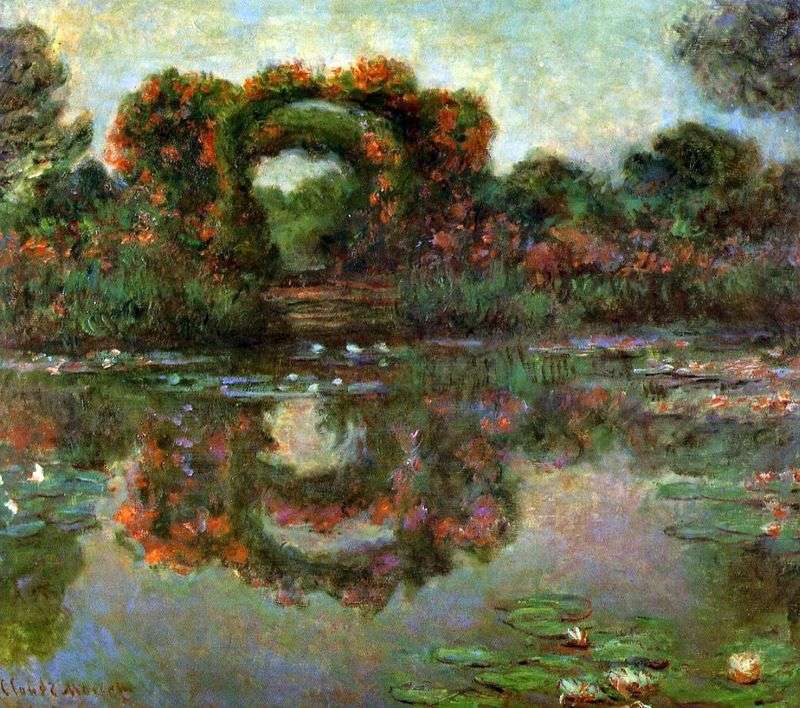 Arch in flowers, Monet, description of the picture… He was in search of "transparency, fog" Wandered for hours along the meandering Roux And turned the illusion of deception From color and shadows into an elegant game… A. Sudyin The beautiful painting "Arch in colors" is a creation great monet.
It was written at a time when the artist was already recognizable and famous. By the time the author found his own style of writing and the pattern of a mixture of colors, he decided on his multicolor, opened impressionism to the world. Silent backwater – generated by the tributary
of the Seine – the river Ru, – gives off dampness and coolness thanks to the marsh-red palette. Only the azure spot of the sky refreshes the time of day and that, at all, does not warm the landscape. The place where the picture belongs to the viewer is a few dozen kilometers from Paris. It is called Giverny and is a provincial village with a European accent. In combination, Giverny became the geographical birthplace of the Monet family and connected the aged artists with those who died – with their son and wives.
Everything that is displayed on the canvas is the work of Claude Monet. And the arch, and water lilies, and clear water, and the path that runs beyond the floral arched curve into the distance… Mossy colors set the landscape in a mysterious fairy tale. As if descending from the frames of the film about wizards, the garden in Giverny is visible through wet air and fog hanging over the creek. The magnificent flowering arch looks in a mirror green smooth surface. Symmetrical reflection resembles a freakish pattern of butterfly wings hovering in a muddy haze. The painter masterly combined the greens in all the manifestations of this color – both cold and warm, and fresh, and sad, and with an admixture of blue, and rusty…
Monet's letter is flawless. It contains both the smooth surface of the oil, and sharp strokes. The multi-pattern nature of the overlay of the pigment creates a three-dimensional pattern that highlights the fact that it has a loose structure, for example, petals of lilies and water lilies, grass, leaves of convolvulae on the arch. In general, the picture emanates cold due to a certain emptiness, and due to its color and time of day. I do not want to think that Monet is lonely in the place where love once lived, his full family and the boys were running – the sons of the owner.