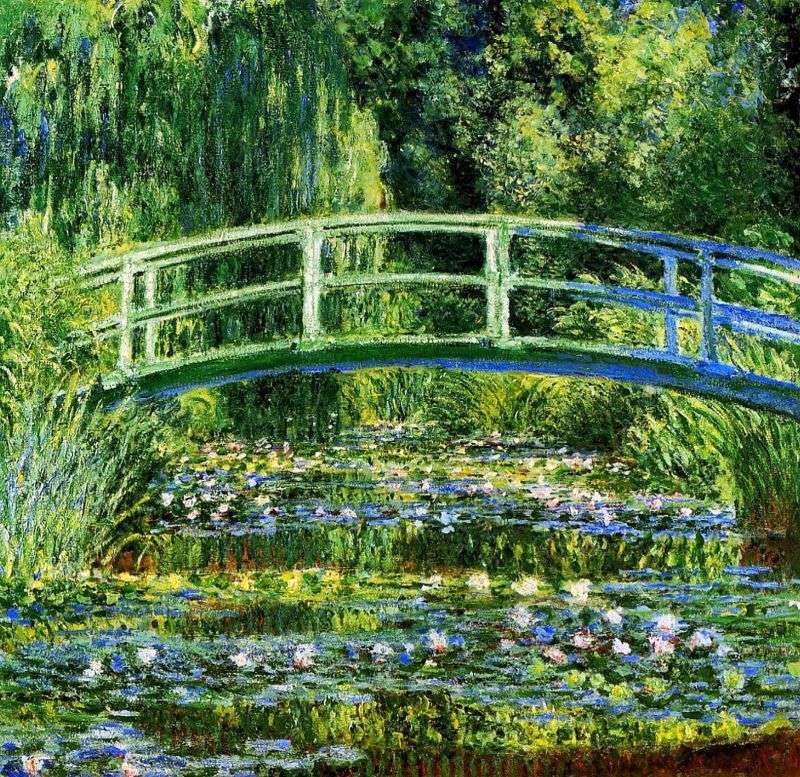 In 1890, Monet bought a house and land in the small town of Giverny and decided to make a pond in his house and grow water lilies out of the seeds ordered in Japan.
The origin of such a plan was associated with great interest and love of the artist to Japanese art and, in particular, to the engravings of Hiroshige and Hokusai, which became widespread in Europe after 1870. The garden occupied about two acres, and part of it stretched across the road. Nearby was a small pond; Monet bought it along with the adjacent land in 1893.
Turning to the prefecture for permission to reorganize the pond, Monet wrote
that it was necessary "for the sake of a feast for the eyes and motives for painting." After receiving permission from the local authorities, he redid it into a water garden, through the floodgates, letting water from the nearby Ept river flow into it. Around the pond, he planted flowers and shrubs: part of local origin – raspberries, peonies, hollies, poplars; Part of the exotic plants are Japanese cherry, pink and white anemones. The garden, which was spread out on the other side of the road and around the pond, gave the impression of an exotic and romantic.
In his planning, Monet followed the advice of a Japanese gardener who had been visiting for some time in Giverny: among the modest habitual vegetation, there were Chinese ginkgoes, Japanese fruit trees, bamboos, a Japanese bridge, which seemed to migrate here from Hokusai's engraving. There were water lilies floating in the pond, and the garden was dotted with a maze of climbing and intersecting paths. In the fall of 1899, at Giverny, Claude Monet began the cycle of the Water Lilies, which he worked on until his death. This is Monet's favorite corner at Giverny, which he wrote most often, a pond with water lilies and always clear water, surrounded by trees and flowers, with a light Japanese bridge in the shape of a donkey's back.
Through the thick greenery of the garden, the blue sky peers through. Against the background of the main green contrast, bright white, pink, yellow spots of corollas and water lilies burn. Hanging branches of weeping willows, form a solid wall, fencing off this corner from the rest of the world. "It took some time so that I could understand what my water lilies are. I planted them and raised them just for fun, without any thought that I would write pictures to them… The perception of living nature comes to us not immediately."