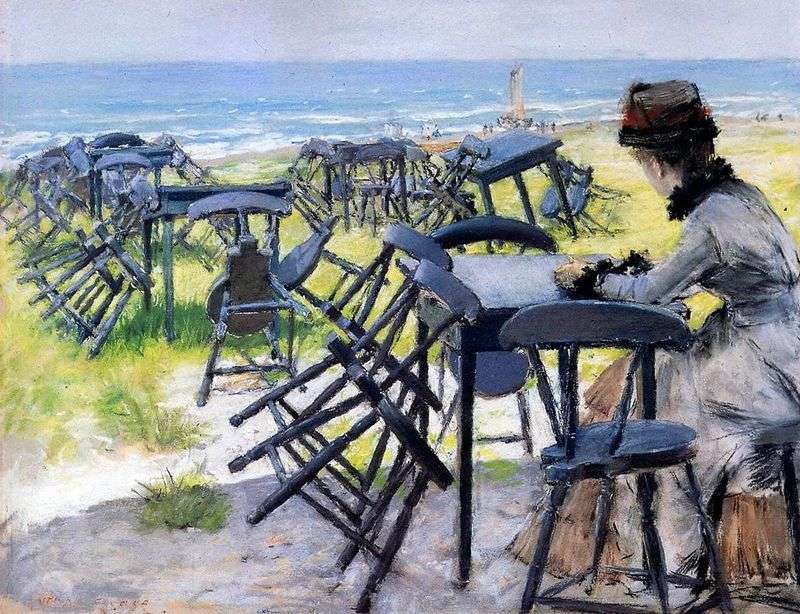 William Merritt Chase is a rare example when the artist during his lifetime gained great popularity, reverence and material gratitude. The founder of Impressionism on the American continent, Chase captivated everyday subjects, landscapes and portraits. The painting "The End of the Season" is a successful combination of all three fancies of the master.
The canvas depicts a seascape, the shifted chairs of a coastal cafe and a female figure looking toward the sea, spilling white whip-waves. Despite the unconditional beauty of the plot and its embodiment, the work casts a light nostalgia – just recently life was bustling on this place, people in light summer suits were treated to drinks, strolled along the picturesque shore, and now the cafe is deserted, faceless and meets the casual spectator with the "skeletons" of folded chairs.
The figure of a woman provides an extensive field for imagination. Who is she? Perhaps a casual passer-by, or maybe the owner of a cafe. What are her thoughts busy with? Even the back turned to us confirms the mood of the picture – it's an easy sadness either over the warm days, or through the noisy stream of guests. In the presented work the author remained true to his individual style – a calm color range, a light free stroke and extreme expressiveness.
The creator of his own style, whose foundation was Impressionism, coupled with realism, Chase wrote an unusually lively and emotional picture, surprisingly transforming a fairly ordinary everyday plot.