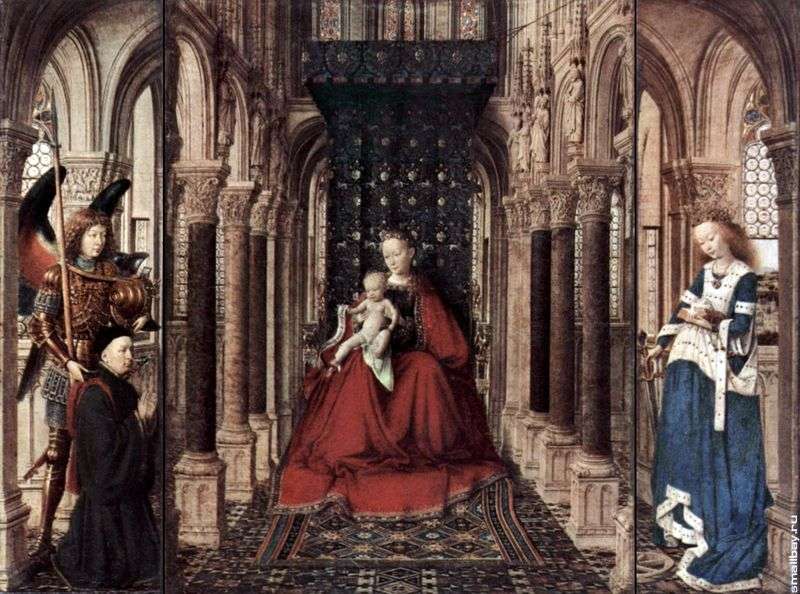 The altar of the Virgin Mary or the so-called Dresden triptych. The left wing of the altar: the archangel Michael with the donor. The right wing of the altar: St. Catherine of Alexandria. The reverse side of the sash, the scene: The Annunciation.
If in the Ghent polyptych the artist Jan van Eyck tried to create a generalized, synthetic picture that would combine a multitude of individual phenomena into a single picture of the universe, then a concrete fact is put in the basis of the solution, and although there is still a desire to convey the beauty of the universe – enthusiastic fascination written a convex mirror – yet objects – the bearers of this beauty – are already losing the dominant role. In the altar compositions, as already mentioned, this process also took place.
He came a little later than in the portrait – in the Dresden triptych "The Altarpiece of the Virgin Mary", apparently, almost a simultaneous portrait of the four Arnolfini, the main thing is the solicitous desire of the artist Jan van Eyck not to disturb the lively connection of his heroes with the world. St. Catherine in light, blue robes, holding in her hand a shining sword with a transparent sapphire handle, tilts her head above the prayer book, and the slope of her head echoes like the leaves of a palm tree, the divergent lines of arches, and behind her in an open window are distant buildings and blue mountains. And in the movements of the young saint, and in the blue of her attire, and in the radiance of everything that surrounds her or what she holds in her hands, and in these so far peacefully visible behind the window lives peace, light and silence.