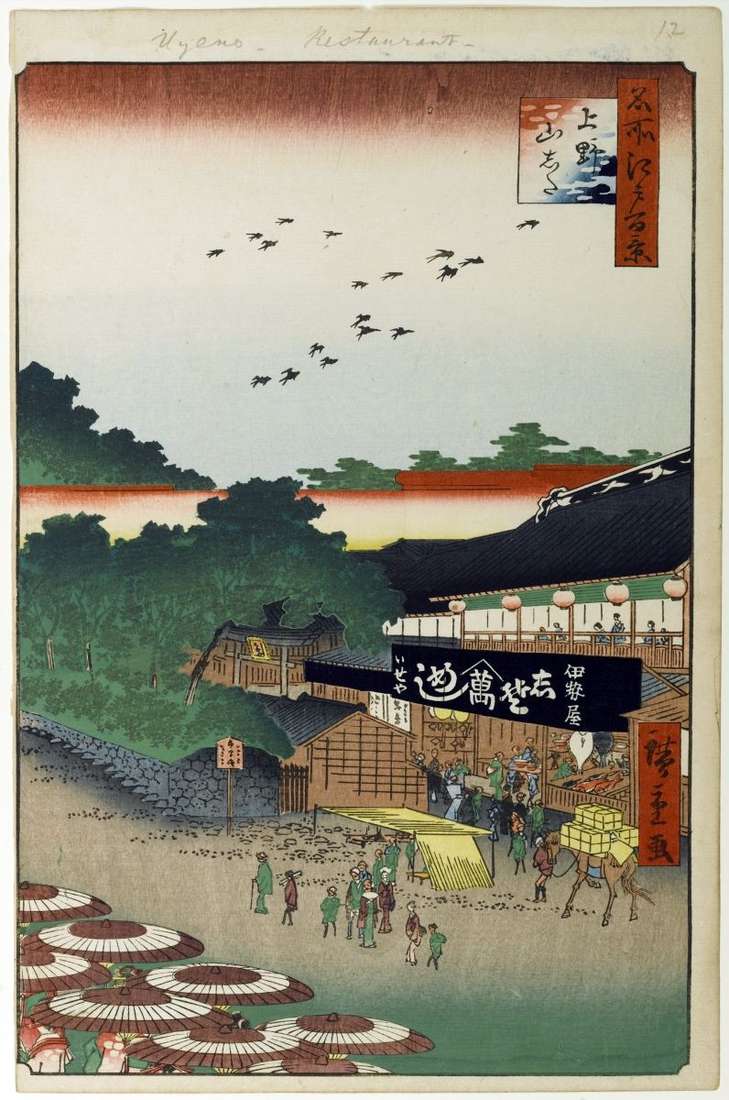 The locality, called Yamashita, was at the eastern slope of Mount Ueno. The area of Wenoyamasita was originally constructed to prevent a fire. The engraving depicts a road between the restaurant of Isea and the eastern edge of the mound. This road passed from the north of the temple Godzokami and led to the square. There were tea houses, performances were shown, it was a place for recreation and entertainment. There were street performances of acrobats, rope walkers, dancers and artists, disguised as monks.
In the south of Wenoyamasita there were also many restaurants, shops, and it was always lively and crowded. A lot of fish are laid out in front of the restaurant of Isea on the counter. The fish hangs from the ceiling. On the second floor guests of the restaurant eat and admire sakura on Uenojama mountain. On the bottom left is a procession of women with the same umbrellas, going to Uenojama Mountain to enjoy the cherry blossom.
Perhaps the author of this engraving was not Hiroshige, but his pupil Shigenobu, since the leaf was issued a month after the death of the famous artist. Coloristic differences of these engravings can be seen quite clearly. The sky acquires a blue color near the horizon, deaf tones of greenery become fresh. A square cartouche made of green-yellow turned into red-white-blue.