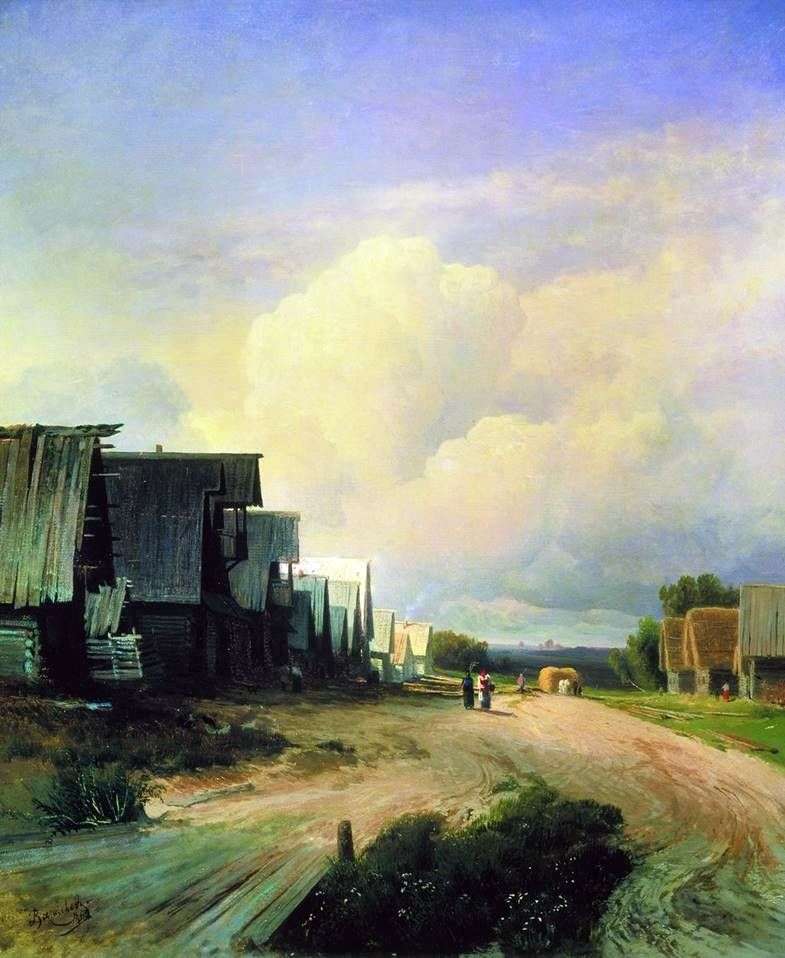 Fedor Vasiliev can be called a city dweller. Almost his whole life was in St. Petersburg. But where then to take delightful rural scenery for one of which, the painter was even awarded the first prize of the competition, organized by the Society for the Promotion of Artists?
It's simple – in the summer of 1868 Vasiliev goes on vacation to the village of Konstantinovka, near Krasnoe Selo near St. Petersburg. The young painter was delighted with the simple beauty of village life, everyday life, nature, the measured course of the rural world order. For him everything was new and everything was invariably surprising.
Cloth "Village Street" is focused on the two main "heroes" of the landscape – the boundless sky and wide rutted, rutted tracks from the wheels, the road. The sky, as usual with Vasilyev is beautiful – a living, breathing space filled with large outlines of clouds. In the rest, the painter remains extremely honest with the viewer – the rural landscape is written out accurately and in detail.
Straight rows of houses with wooden and thatched roofs, like caravans line up before the eyes and go beyond the horizon, a few people engaged in business, the road that shows that there is a rich life here. Even the most attentive spectator will not find a note of criticism in the village landscape, since the whole picture is admiration and love for the countryside.
In subsequent years, Vasilyev only approached rural nature and life – he undertakes trips to Tambov province and to the estate of his patron Count Stroganov.