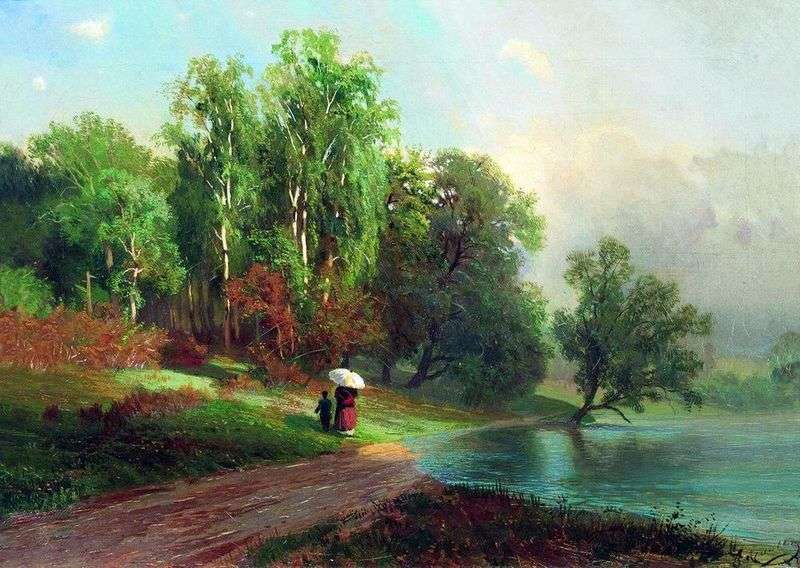 Such an extraordinary vision of nature, such power in its image was not at anyone. Fyodor Alexandrovich Vasiliev was able to convey not only the transparency and warmth of the air, the trembling of leaves, but the very soul and mood of every piece of nature, feeling probably the "genius of the place" that every landscape has.
Each of his new paintings became a kind of picturesque poem with its emotional atmosphere. The summer months of 1868, which Fedor Vasilyev spent together with Ivan Ivanovich Shishkin in the vicinity of Petersburg: in the village of Konstantinovka, making near trips to Krasnoye Selo, then in Pargolovo, then in the northern spurs of the Valdai Upland in the village of Verebia. It was a time of accumulating experience, searching for your topic, developing your own pictorial language.
In his work, Vasilyev gradually freed himself from the influence of his elder friend, consciously striving for poetry and for a more picturesque solution to the landscapes of his native land. The theme of the countryside landscape at this time was strongly occupied by Vasilyeva. Everyday, everyday in his paintings does not become routine, but appears as a poetically perceived and experienced. In these landscapes, the figures of people form a single whole with the world of nature, where their daily life so naturally flows. This and many other pictures meet the aesthetic needs of his time.
Poetic empathy and romantic emotion capture anyone who has come into contact with such simple unreasoned landscapes of the young painter. Creativity Fedor Vasiliev was interrupted by death at its highest rise, and it remains only to guess what the young man could bring to the treasury of Russian and world culture, his life continued for another two to three decades. And, perhaps, landscape painting of the late XIX century would have its highest development, not only in the intimate lyrical pictures of Levitan, but also in the same romantic canvases of the forty-year-old Vasiliev.
"Young, strong, who lived only five years as an artist who reached the height of a huge… he opened the living sky, he opened the wet, bright, moving sky and those delights of the landscape, which he expressed in a hundred of his paintings."