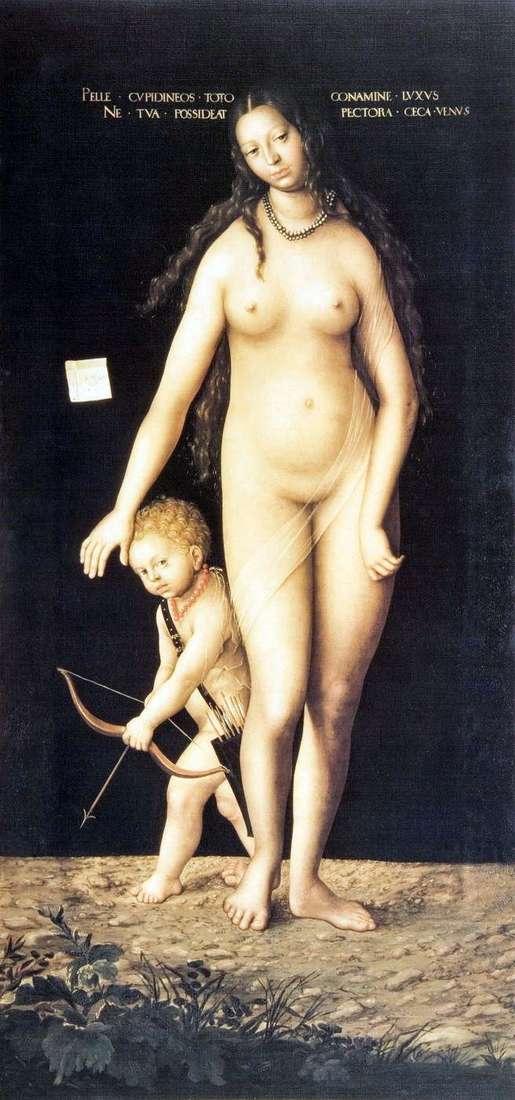 The famous painting "Venus and Cupid" was painted by the artist Lucas Cranach the Elder in 1509. Size 213 x 102 cm, canvas, wood, oil. The picture is attributed to the beginning of the mature period of the artist's work. The canvas "Venus and Cupid" is the first picture of erotic content in the art of the German Renaissance. One of the important features of the artist Lucas Cranach is that he is one of those German painters of the 16th century who showed interest in the achievements of contemporary classical art in Italy.
In a number of his works, Lucas Cranach refers to the classical methods of transmitting space and interpreting the human figure. The artist creates images of the Madonna, likened to the type of Italian patterns, introduces elements of Renaissance architecture into figurative compositions, tries to embody the ideal proportions of the naked body in the painting "Venus and Cupid."
In 1509, Lucas Cranach, who always felt changes in tastes and fashions, painted a picture depicting Venus and Cupid. The artist deliberately refused color, effectively sculpting the body in yellow and golden tones, the figures of the goddess and her son seem cast from bronze; Only red beads on the neck of the Cupid are allocated. The nude Venus poses in front of the viewer, holding a small love goddess with her hand, ready to shoot a bow from someone's heart. The chestnut hair of the goddess streams down her shoulders, the transparent fabric emphasizes what she must conceal.
For Cranach this was the first attempt to depict a naked body, and even in full size. If he wants to justify himself, he places a couplet in the background of the picture to edify the viewer: "With all your strength, drive Cupid's voluptuousness so that Venus can not control your blinded soul." Venus Cranach is a tall, long-legged woman, her image combines the archaism of old German art with the elegance of Italian taste, her gestures are graceful and at the same time somewhat awkward – this is the unique originality of the work of Lucas Cranach.