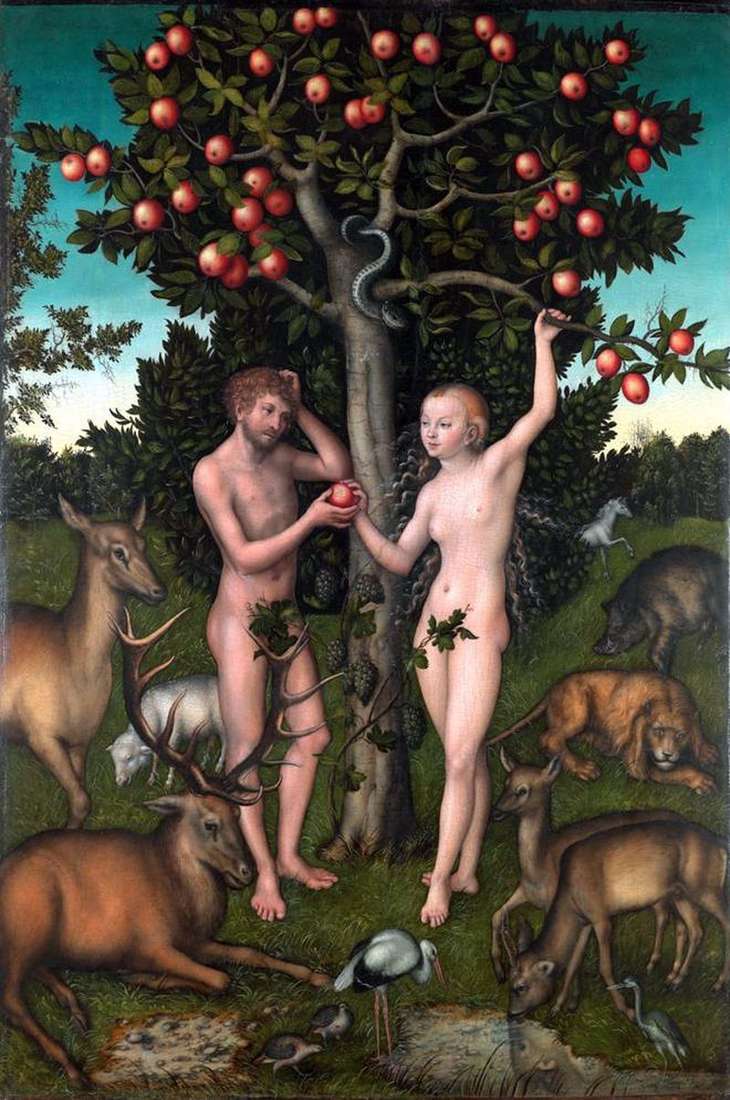 The picture of "Adam and Eve" the artist Lucas Cranach wrote in 1526. Work size 117 x 80.5 cm , oil on wood. After the first quarter of the 16th century to the fore in the work of German artist nominated decorative techniques image, painting by Lucas Cranach becomes petty and dry.
These features are further aggravated by the fact that the production of paintings of the artist in the studio students Cranach takes almost massive. Fairy-tale and mythological subjects of paintings and engravings are treated superficially, in terms of their literary entertaining.
Already in 1508-1510 Cranach developed an art scheme for the realization of the story of the temptation, and gave him, as well as other artists of the Renaissance, to legally without fear of condemnation by the Church, represent naked male and female figures.
At the heart of the paintings on this theme is the biblical story of Adam and Eve ate the forbidden fruit. In Cranach tree – always the apple tree, even though other painters, and it can be a fig. Master has created about 50 images of this subject, they are stored in galleries in London, Berlin, Prague, Antwerp. In earlier versions, as well as on the Dresden – only participants biblical scenes – Adam, Eve and the Serpent, later include God created animals to humans.
However, all these versions are compositionally similar: Tree often divides the composition into two equal parts, and sometimes, as in this case, it is also the two boards.