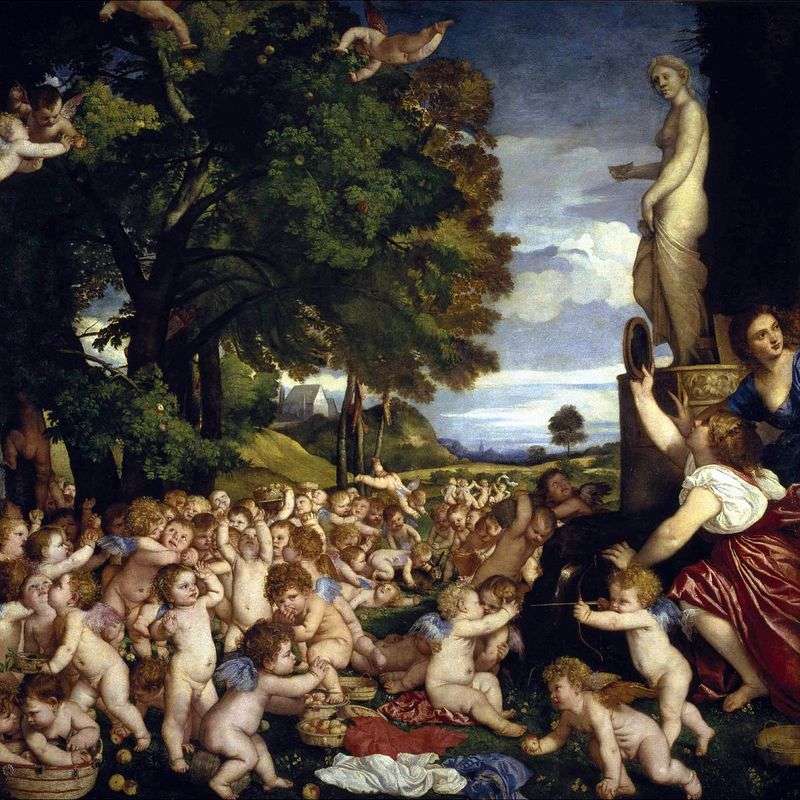 "The Festival of Venus" is, together with the "Bacchanalia" of the Prado Museum and the painting "Bacchus and Ariadne" of the London National Gallery, a single cycle dedicated to Bacchus and Venus, written by Titian in 1518-1523 for the Duke of Ferrara, Alfonso d'Este.
Three paintings by Titian and Titian's completed "Feast of the Gods" Giovanni Bellini, apparently, are united by a program compiled by the Ferrara humanists. The implementation of this program was originally intended to be attended by the Ferrara painter Dosso Dossi, Florentine Fra
Bartolomeo and Raphael, who were negotiating the writing of the painting "Triumph of Bacchus."
In 1517, Rafael even received 50 ducats in advance, but the agreement did not take place. Around 1518 the order was transferred to Titian. "The Feast of Venus" is the first picture of the cycle. Her story, which includes two episodes – harvesting fruits and worshiping Venus – is gleaned from Philostratus.
The painting was in Ferrara until 1598, when, following the accession of Ferrara to the papal possessions, together with other paintings of the Ferrara collection, it was transported to Rome and became the property of Cardinal Aldobrandini. Until 1639, was in Rome in the Palazzo Ludovisi, then was presented to the Spanish King Philip IV