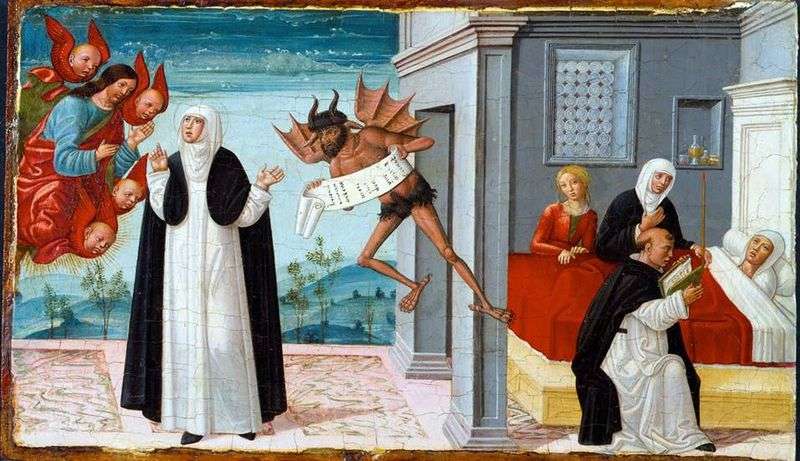 Girolamo di Benvenuto worked mainly in Siena and its environs, so St.. Catherine, the patroness of this city, often appears in his works. On a small panel, whose creation time is unknown, an episode from the legend about her and about another Dominican nun named Palmertina is transmitted.
Contrary to Catherine's attempts to reconcile with Palmertina, she fed a holy irreconcilable malice. Despite this, when Palmerthina was mortally ill, Catherine prayed that she would not be condemned to eternal torment, dying unrepentant. On the first part of the panel depicts Christ surrounded by cherubs, who appeared to Catherine during the prayer and warned her that Palmertine had no salvation; behind the back of Catherine the devil, who was usually on duty at the mortal bed of sinners to steal their souls, holds in his paws a long list of the sins of Palmerty.
Catherine's pleas eventually inclined Christ not to let Palmerthina die until she completely repents, and thereby depriving the devil of the prey. On the stage in the right part of the panel, Catherine and the monk are present at the deathbed of Palmerty, who at last completely repented and reconciled with the saint. SW. EKATERINA SIENSKAYA. Catherine resisted attempts by her parents to marry her and joined the Order of Dominicans to take care of the poor and sick. She experienced many mystical trials: in one of them, Christ offered her a choice of two crowns – gold and thorn, and she chose the thorns; in the other she received stigma; and, like Catherine of Alexandria, entered into a mystical marriage with Christ.
All her life, Catherine devoted to strengthening and purifying the papal authority. She is considered the patroness of Italy and revered in her hometown of Siena, where Domenico Beccafumi portrayed her in white monastic robes receiving stigma. In other picturesque canvases she is in black and white vestments of the Order of Dominicans, can hold a lily or rosary, or show her stigmas.