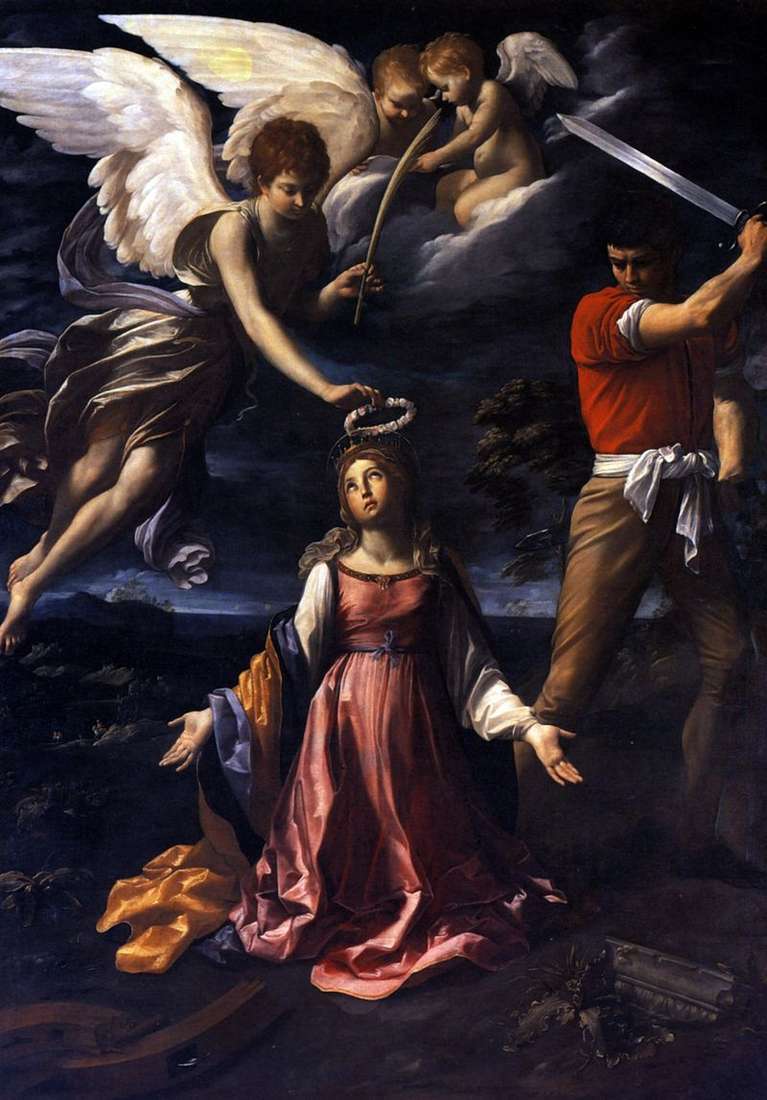 Painting by Italian artist, master of Bologna academicism Guido Reni "Death of Catherine of Alexandria". The size of the painting is 277 x 195 cm, oil on canvas. Catherine is a Christian martyr, saint, originally from Alexandria. The martyrdom of Catherine of Alexandria belongs to the times of Emperor Maximinus, who, by his decrees, cruelly massacred Christians. Maximin, Roman emperor since 235.
The son of a peasant, promoted to high ranks in the army; proclaimed emperor soldiers. The Order of the Holy Great Martyr Catherine or the Order of Liberation is the Order of Women, established by Peter
the Great on November 24, 1714, on the day of the namesake of Queen Ekaterina Alekseevna, in memory of the Prut campaign against the Turks. The badge of the order is a white cross in the hand of Saint Catherine the Great Martyr, in a purple field, and in the center is another smaller cross, decorated with rays.
Between the needles of the cross of the letter: DSFR. The Order has two degrees – a large cross and a lesser or cavalry. The Grand Cross, except for the royal blood, only 12 Russian ladies complain, and the cavalier cross will give 94. The first lady of the order of the royal blood was the wife of Prince Menshikov. In the eighteenth century and the beginning of the nineteenth century, with rare exceptions, the Order complained exclusively to the princesses.
According to the statute of 1797, the order complains to the sovereign, all the grand princesses receive signs of the order of the holy martyr Catherine at baptism, and the princess of the blood of the imperial – on reaching the age of majority. The ribbon of the order – red, with a silver border – is worn over the right shoulder. Order motto: for love and fatherland. The empress is considered the order master, and the deaconess is the spouse of the heir. The Order of the Feast – November 24, on the day of St. Catherine the Great Martyr.