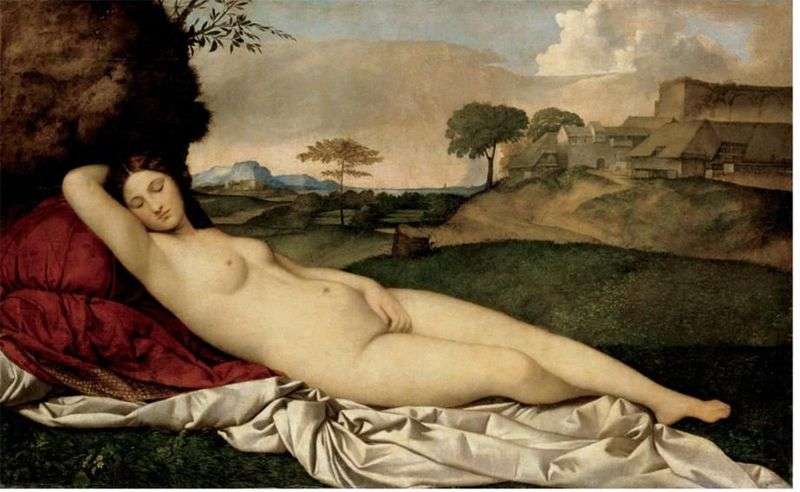 The painting "Sleeping Venus" by the Venetian artist Giorgione. The size of the master's work is 108 x 175 cm, canvas, oil. Giorgione's creative work ends with two works – the Dresden "Sleeping Venus" and the Louvre "Concerto."
These paintings remained unfinished, and the landscape background in them was completed by a younger friend and pupil of Giorgione – the great Titian. The painting "Sleeping Venus", in addition, lost some of its picturesque qualities due to a number of injuries and unsuccessful restorations. But anyway, it was
in this work with a great humanistic completeness and almost ancient clarity that the ideal of the unity of the physical and spiritual beauty of man was revealed. Surprisingly chaste, despite its nakedness, "Sleeping Venus" is in all its sense an allegory, symbolic image of Nature.
Immersed in a calm slumber naked Venus is depicted against the background of a rural landscape, the gentle gentle rhythm of the hills so harmonizes with its image. The cloudy atmosphere softens all contours and preserves at the same time the plastic expressiveness of the forms. Like other creations of the High Renaissance, Georjeon's Venus is closed in its perfect beauty and, as it were, alienated from the viewer and from the harmony of the music surrounding her nature, consonant with her beauty. It is no accident that she is immersed in the clear dreams of a quiet sleep.
The right hand, thrown behind the head, creates a single rhythmic curve that encompasses the body and closes all forms into a single smooth contour. Serene light forehead, calmly curved eyebrows, gently lowered eyelids and a fine, rigid mouth create an image of inexpressible words of transparent purity. Everything is full of that crystalline transparency that is attainable only when a clear, uncomplicated spirit lives in a perfect body.
The painting by the artist Giorgione "Sleeping Venus" is one of the most ideal female images of the Renaissance. Under the impression of this picture, Titian and Durer, Poussin and Velasquez, Rembrandt and Rubens, Gauguin and Manet created their works on similar subjects. In the middle of a hilly meadow on a dark red veil serene sleeping sleeps, dreaming of his dreams and fantasies beautiful ancient goddess of love and beauty Venus.
Behind Venus on the horizon is a spacious sky with clouds, a low range of blue mountains, a sloping path leading to a hill overgrown with vegetation. A steep rock, a bizarre profile of the hill echoes the outlines of the figure of the goddess. "Sleeping Venus" remained unfinished. Landscape, as mentioned above, it wrote Titian, also in the picture Titian was depicted Cupid, recorded in the 18th century.