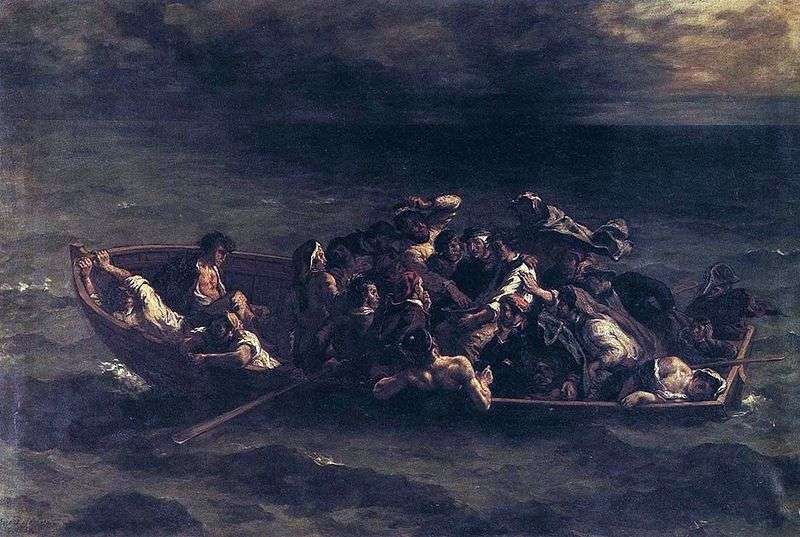 The plot of the picture Delacroix borrowed from Byron's poem. Young Don Juan, who after the first adventure with a woman decided to send away from home, from the Seville's temptations, sits on a ship going to Livorno. With him, his teacher Pedriello, three servants and a dog.
We went out into the sea, a squall flew in, the ship crashed, sank. Those who have time, are saved on a boat and skiff. Yalik also drowned, there was a boat and thirty people on board, including Don Juan and his companions. The squall has ceased, but the sea is worried, the boat pours. They ate the last biscuit, drank the last water and rum, ate the dog, chewed the shoes and skin of the oarlocks. They decided, desperate: draw lots, who to be killed and eaten. Pedro reached the lot. The ship's doctor opened his artery and quenched his thirst with cooling blood. The body was torn to pieces. Don Juan and two or three other people did not take part in the feast. It saved them. Those who ate human flesh, drank salty sea water and perished in terrible croaks. The picture shows the moment of the choice of the lot.
In the boat, exhausted, hungry and thirsty people. In the midst of people frightened, but no longer able to resist the fate of fate, the unfortunate Pedriello. And his hands are already reaching for him, eager to snatch, to grasp the desired piece of flesh. But there are some who do not care, they are indifferent to the human bacchanalia. And around the sea, throwing the boat in different directions, the waves rising up and looking to fall on the boat and take it to the bottom of the sea… The colors in accordance with the plot are gloomy, cheerless, emphasizing the tragedy of the famous Byron theme.