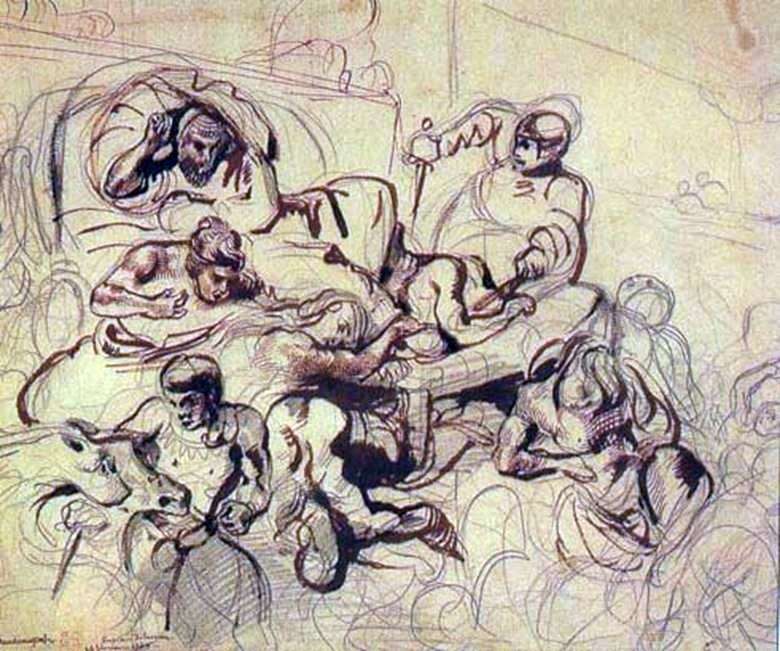 Despite the revolutionary nature of the manner, the methods of Delacroix's work remained quite traditional. Even while studying at the School of Fine Arts, he appreciated the importance of preparatory studies, which included the creation of figured sketches. These sketches Delacroix did in his workshop, inviting as models professional sitters.
An example of this can serve as his sketch for the painting "The Death of Sardanapal." Most often, Delacroix was doing this to find the most advantageous pose of the figure, but sometimes sketched and individual details – the foot, palm or folds of the drapery. At the beginning of the work the artist used a pencil or chalk, but as the composition of the picture took on a clear outline, it turned into pastel or oil. Here are shown his oil sketches to the pictures "Freedom leading the people." In the early Delacroix, the postures and gestures of the figures bear traces of learning from the old masters.
Delacroix's skill in depicting the human figure was not denied by critics even when the pictures themselves were completely rejected. Strange as it may seem, the figures are sometimes attributed to the weaknesses of the manner of Delacroix, considering them too elaborate.