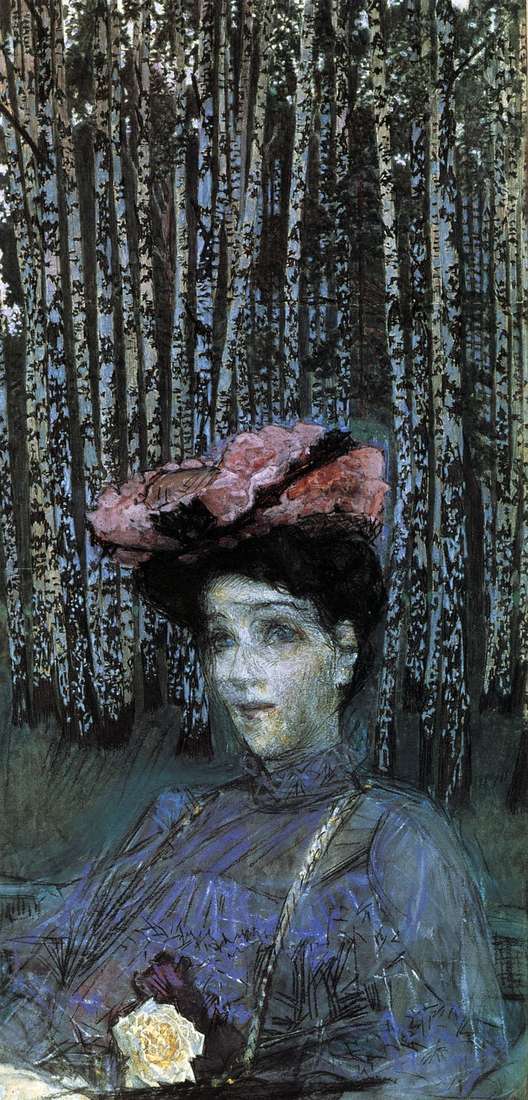 The artist's wife, Nadezhda Ivanovna Zabela, was a famous singer. Vrubel said that many singers sing like birds, but his Nadia sings like a man. Nature generously endowed Nadezhda Ivanovna with the beauty of her voice, but her singing was also distinguished by her special sincerity, deep penetration into the melody, into every word. Vrubel loved the opera very much, he felt the music subtly. He appreciated the spiritual qualities of his wife, bowed before her talent, with deep attention to her art. A man, often impetuous in words and deeds, with him he was meek and kind.
The portrait of Zabela is written in the open air and all is permeated with light. Delicate lilac, green, white, ocher spots in complex combination, inspired movements put on canvas, create the impression of airiness, transparency, lightness, harmonious joyful sound.
Vrubel depicts, even slightly exaggerating, something special that he found in the appearance of his wife: the elongation of his face with a heavy chin, a fleeting smile that seemed to hide, enlarged eyes with large pupils, and this strangeness gives the person a special unique beauty, an expensive mystery to the artist.