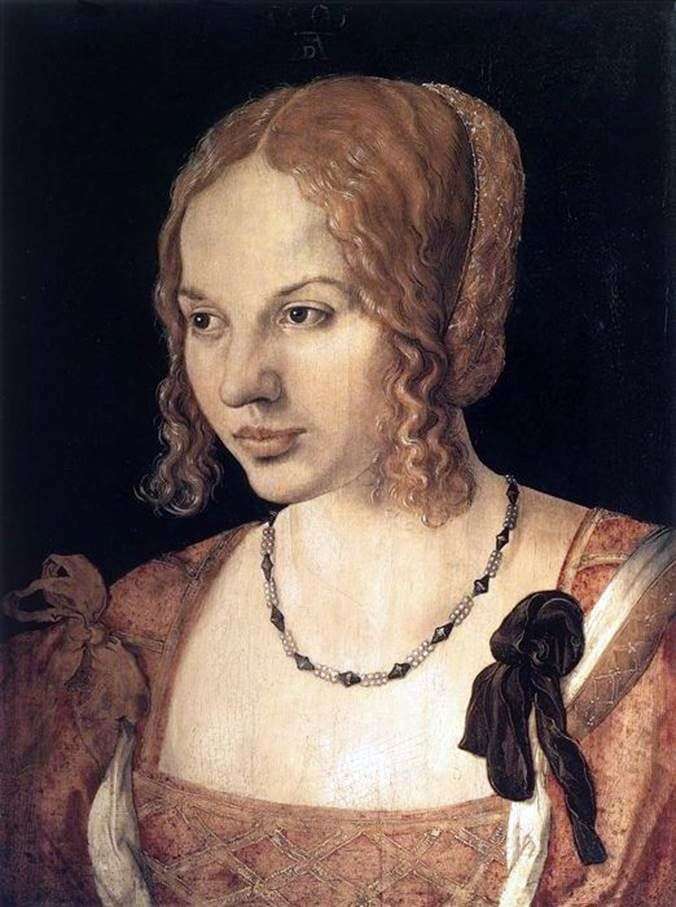 "Portrait of a young Venetian" Albrecht Durer wrote during his second trip to Venice in 1505. This is one of the most lyrical paintings of the famous master. Exquisite colors – all shades of brown color, golden hair, a delicate shade of leather and a shiny matte shine of a string of pearls…
A dreamy look, slightly lowered eyelids, radiant black eyes, a wave of hair over a clear high forehead, and large, sensual lips. From the picture comes such charm.
Who did Albrecht Durer represent? Who was this young Venetian woman? Art critics do not even try to answer this question, because in history there are no traces, not even hints.
In the Portrait of a Young Venetian, one feels a passion for the woman the artist wrote. Her face can not be called right, but in its very wrongness – captivating charm. Thin, slightly curly golden hair gently touches the white shoulder. Hairstyle in the Venetian fashion is held by a transparent mesh. Deeply carved dress is decorated with embroidery and bows – gold and brown. Thoughtful brown eyes appear especially dark on the pale, serious face.
The portrait is surprisingly begun, but not finished. What prevented this? We can only ask ourselves these questions, but do not dare to write answers to them. And yet, when you stand in front of the "Portrait of a Young Venetian" in the Vienna Museum of Art History and you can not take your eyes off of him, you get the feeling: it's not just a portrait. This page is the life of the artist.