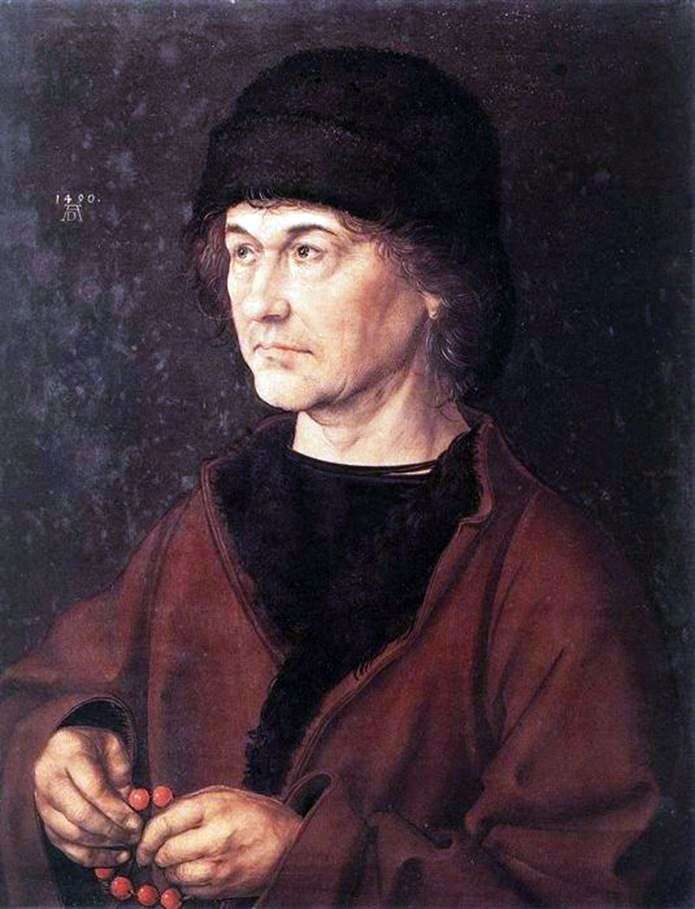 The portrait of the artist's father is Albrecht Durer's first paintings, which reached us. This is the first work that Durer has marked with his monogram. Having painted a portrait of his father, he finally realized himself as an artist. At this time, Durer wrote and Portrait of the mother. He conceived these works as a gift to parents, first of all to his father. This work was a gratitude for the fact that his father did not prevent his son from becoming an artist.
About his father Durer will write in his diary the following: "… Albrecht Durer senior spent his life in great diligence and hard work and had no other food than that which he extracted for himself, his wife and children with his own hands. … He led an honest and worthy Christian life, was a patient and kind person benevolent to everyone, and he was filled with gratitude to God. He was far from society and worldly joys, he was also a laconic and God-fearing person. "
On the portrait – an old man with a calm tired face pensively sorts the rosary. He has smart eyes. Their eyes seem directed inwards. He has big hands. They are stronger and younger than the face. The portrait is taciturn and restrained, as was Durer, the eldest, who was silent and restrained.