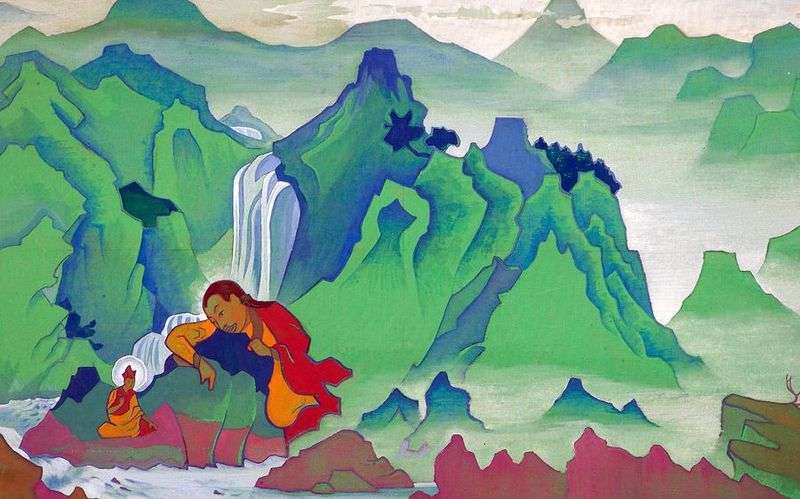 The painting "Padma Sambgava" depicts one of the fathers of Buddhism in Tibet, the founder of the Nyingma school Padma Sambhava.
For many centuries, his legendary acts were depicted by artists in canonical iconography. Roerich describes the old picture he had seen from Dalinga Monastery: "Here is the Teacher in the form of a black-headed lama with a Solomon star on a headdress striking a dragon. Here is the Teacher bringing down the rain; previously covered his head with a sacred triangle.
Here is the Master neutralizes the snakes; so he conjures a torrent and sends rain. Here he
is fearlessly talking with a giant mountain spirit. Here Teacher is flying above all mountains. Here, from the shelter of the cave, he hurries to help the world. And finally, in the circle of a poor family, he prays for the happy swimming of the absent householder. No matter how obscured his teaching now, his vitality is depicted sufficiently. "
Roerich painted a picture in the style of oriental art. The saint is highlighted in red and a bright halo is akin to the sparkling of waterfall streams. The source of the waterfall, as well as the source of wisdom, is traditionally associated with the sky. Padma Sambhava, enlightened by higher Knowledge, defeats the giant personifying the lower chthonic forces.
In the picture of Roerich everything is full of dynamics. Clouds float, mists creep in, a waterfall rushes down with noise, a stream of water rushes briskly, the wind blows, waving clothes. And the fact that, it would seem, should be fixed, also shows the illusion of changing forms in space. The mountains rise and fall; the hills have a series of pointed lines. Even the jagged rocks of the foreground are built in the direction of the main character of the canvas. His small figure did not get lost in the moving sea of elements; on the contrary, it seems that all restless finds its peace in it. It is the focus that balances the dynamics of the composition.
Evaluating the role of the Great Teacher of Tibet, Roerich wrote: "A thousand two hundred years after Buddha, Master Padma Sambhava brought the teachings of the Blessed One closer to the earthly paths. At the birth of Padma Sambhava, the sky shone and the shepherds saw wonderful signs. The eight-year-old Master appeared to the world in the lotus flower. died, but left to teach new countries. Without his departure, the world would be in danger "
Padma Sambhava remained in Tibetan Buddhism "and the god of knowledge, who brought him closer to achieving the state of enlightenment."