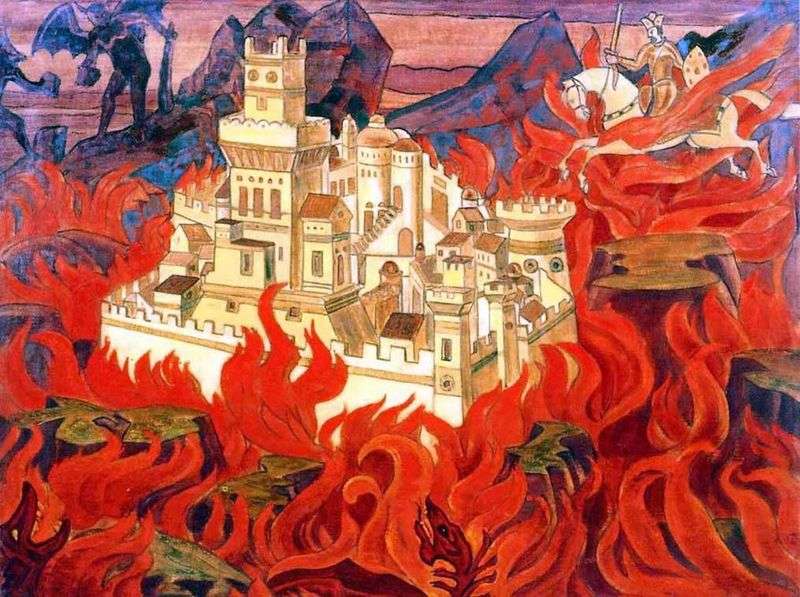 The picture was conceived by Nicholas Konstantinovich Roerich in Frankfurt in 1911: "I worked after lunch. I will do another little thing:" The most pure city. "
The paintings of Nicholas Roerich of 1912-1913 reflect the gloomy premonitions of the artist himself and the alarming state of Russian society on the eve of the First World War and Revolution. The ideas of the Apocalypse were common in Russian literature of the beginning of the century.
Like his contemporaries, Nikolai Roerich foresaw social upheavals. Already in the prewar years, the artist spoke about the war in the language
of allegories: a fiery angel brought a sword to protect the castle hidden in the mist, and guards, devils and demons surrounded the bright, beautiful white-stone city surrounded by the walls and threaten it, among the bare, desolate rocks that rise to the sky like silent giants, shouts a huge sinister serpent. "Roerich feels terrible times -" The Last Angel "- an apocalyptic vision, coming in the scarlet and golden clouds among the celestial lights among the celestial lights, and among the fires on earth.
This picture is undoubtedly prophetic, like some verses of Blok and White, "wrote Vsevolod Ivanov. The artist himself gives us a hint about the plot of the picture in his later entries:" … remember the ancient legend that for the sake of one righteous man the whole city was saved. Remember my picture: "The most pure city – bitterness to enemies" …