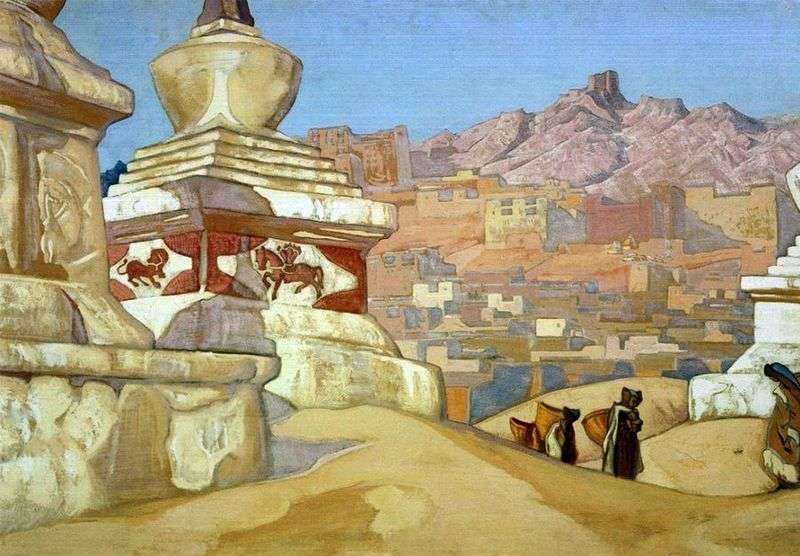 The fire sign of the era of Shambhala – the Red Horseman or the Red Horse – is the plot-semantic leitmotif of the Maitreya series. It represents a picturesque embodiment of what he saw and heard during the journey: the majestic and epic panorama of mountain landscapes is replaced by specific genre scenes, the monuments of Oriental architecture – images of folk tales about Shambhala, Maitreya, Rigden Japo.
The old Red Horseman tanker, a gift received by Roerich in Ladakh, became the immediate reason for creating the picture.
"On a red horse, with a red banner, the red horseman, protected by armor, rushes uncontrollably and blows into the sacred shell. Sparks of scarlet flame rush from him and red birds fly in front of him. Belukha mountains; snow, and White Tara sends a blessing. great lamas. Under it are the guardians and herds of domestic animals as symbols of the place, "Roerich described the image on the donated tank.
The painting "The Red Horseman" opens the Maitreya series in the collection of the Nizhny Novgorod Art Museum. The unusually harmonious, soft, golden-lilac gamma, unhurried rhythm of the movement of women with baskets on their backs create a poetic and at the same time characteristic image of the eastern city, immersed in a drowsy silence. This is probably the outskirts of Khotan with the Karangu Tag mountains located in the south.
In addition to the natural reproduction of the oasis, the legends about the white horse found a peculiar reflection in the canvas. Roerich noted that in the legends of many nations the white horse belongs to the hero. He has the right to walk alone, bringing great news. Erdeni Mori, depicted on an ancient mortar, is the horse of happiness in the Mongolian epic.
The artist met legends about him while traveling. The appearance of Erdeni Mori, carrying the fiery Treasure of the World – the magical stone of Chintamani, reminded people of the imminent arrival of a new era.