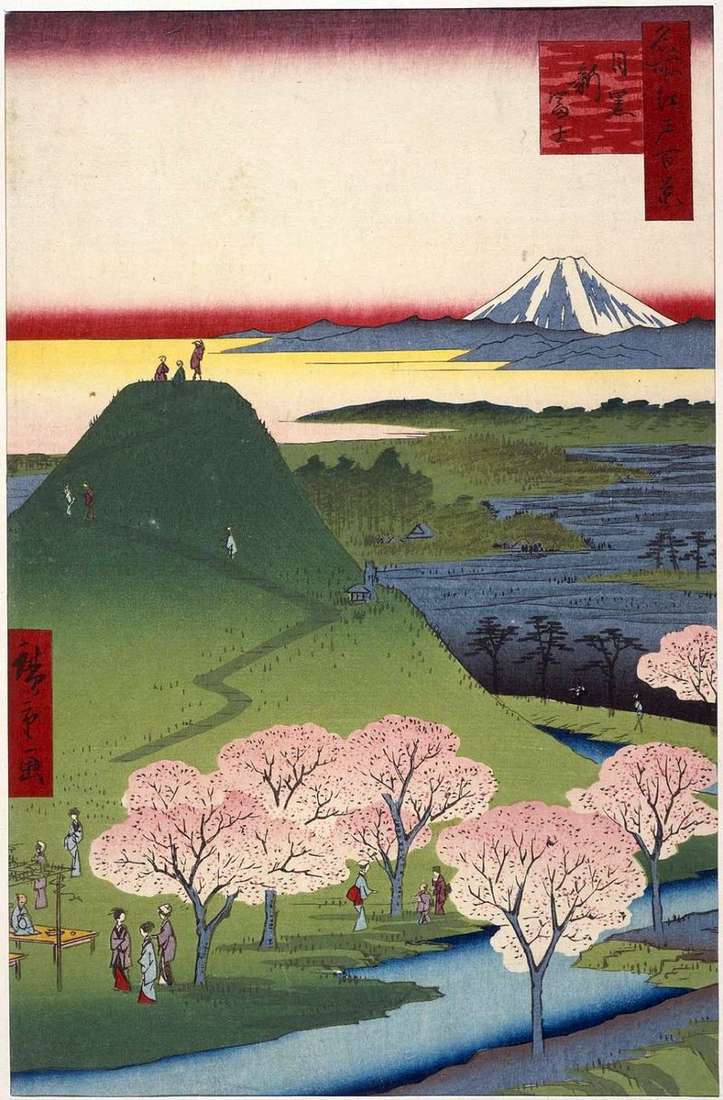 In the area of Meguro were created two artificial mountains associated with the cult of Fuji. Pilgrimages for the worship of the deity Fuji-gongen began in the 9th century, during the Edo period they became universal, but women did not participate in the ascent, and it was beyond the power of the old people and children. Therefore, during the Edo period, artificial replicas of Fujiyama-Food-zizuka began to be built, so that patients, old people, women and children could perform a ritual ascent to the miniature Fuji. One of them, Shin-Fuji, and pictured Hiroshige in this sheet.
Shin-Fuji in Meguro was a massive one, unlike Fujitsuki, created from Fujiwara lava. A winding path led to the summit, resembling a real road to the mountain. Required was a rock in the form of a cap, associated with the name of the monk Sikie Miroku, who died here in the summer of 1733 on the 31st day after refusing to write. With Shin-Fuji, a view of the real Fuji was opened, and in the valley below the temple is seen the Meguro Fudosan.
The space of the engraving is based on a comparison of the two Fuji. The introduction of additional colors in the late print of the engraving makes it more colorful. Rose-yellow stripes of clouds appear, the sky acquires a pinkish-red hue, passing into the red band of the bokasi at the top. A square cartouche becomes red.