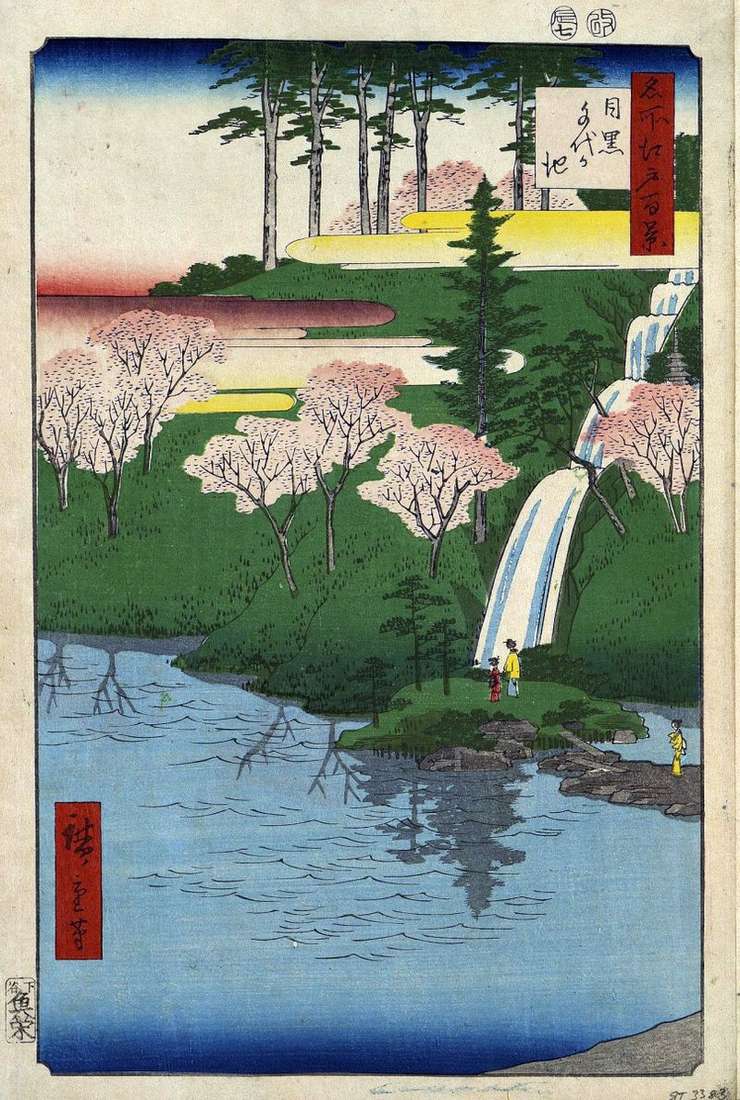 From the elevation of Meguro Tiegasaki, a beautiful view of the south-western part of Edo opens. From here you could see the river Megurogava, rice fields, and then the mountains of Tandzava, Titibu, over which Fujiyama towered. It is known that in Meguro was the country house of Maiudair Tonomo, ruler of the Prefecture of Simabara in Kyushu. Lom was known as "Zekkeikan" – "Magnificent view", pines and sakura grew in the garden, the water of the river cascaded into the pond of Tiegaike, named after O-Tie – the wife of the samurai Nitta Yoshioki, who, upon learning of her husband's
death, rushed to pond, having committed suicide. Perhaps, it was this mansion and the adjacent garden that depicted Hiroshige, very accurately passing on the state of nature in the early spring.
A feature of this engraving is the transmission of the reflection of trees in the water of the pond. Such a device, like the linear perspective, came into engraving Ukiyo-e from European painting and was completely assimilated. A similar technique of the cut-off modeling was used by Hiroshige in this series in three sheets. Late version of the engraving differs in color from early. Stylized, colorful stripes of clouds in the first version, in the second – are made in the same scale with a color solution of the composition. Their coloring in pink and red colors is combined with the flowering sakura trees.