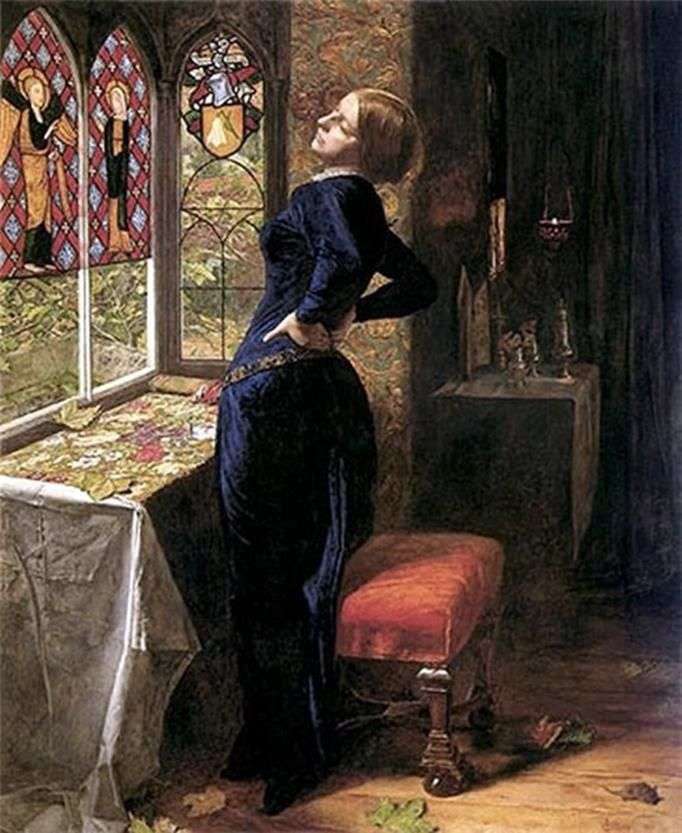 At the heart of the poem and the picture is the plot of Shakespeare's play "Measure for Measure." Mariana rejected: vain Angelo, governor of the Duke of Vienna, sent the bride into exile after her dowry had sunk into the depths of the sea. Mariana's pose resembles the pose of the Mother of God in the painting "Christ in the parental house. Carpenter's workshop", but it is difficult to call it innocent. She stands, smarting after long hours spent embroidering; a luxurious belt, slid off slightly in front, clings to the hips and emphasizes the buttocks. Mariana throws her
head back and bends the neck to the left, showing the profile to the audience. The heroine is erotized, her sexuality is frankly expressed in a natural posture, free from the idealized contrastation of academic tradition.
The sharp perspective of the room, the stained-glass windows depicting the Annunciation, which separate the interior space of the room and the heroine's work table from the autumn nature behind the window, as well as the use of bright colors, possible thanks to the appearance of new paints produced on an industrial scale, Pre-Raphaelite in the first letter to the Times, in the same month when the picture was exhibited. The figure of the girl is framed by textured gold wallpaper with the image of vegetable arabesques and various birds, on the table in front of her is an embroidered floral pattern, on which she works and which seems to lie on the altar.
Mariana – as if in a cage behind a window cover and stained glass, through which you can wistfully look at the garden. Behind, in the depths of the room, you can see the altar with a small triptych and a lamp hanging above it. Mariana's femininity itself is excluded in confinement, and faith does not serve her as a consolation.