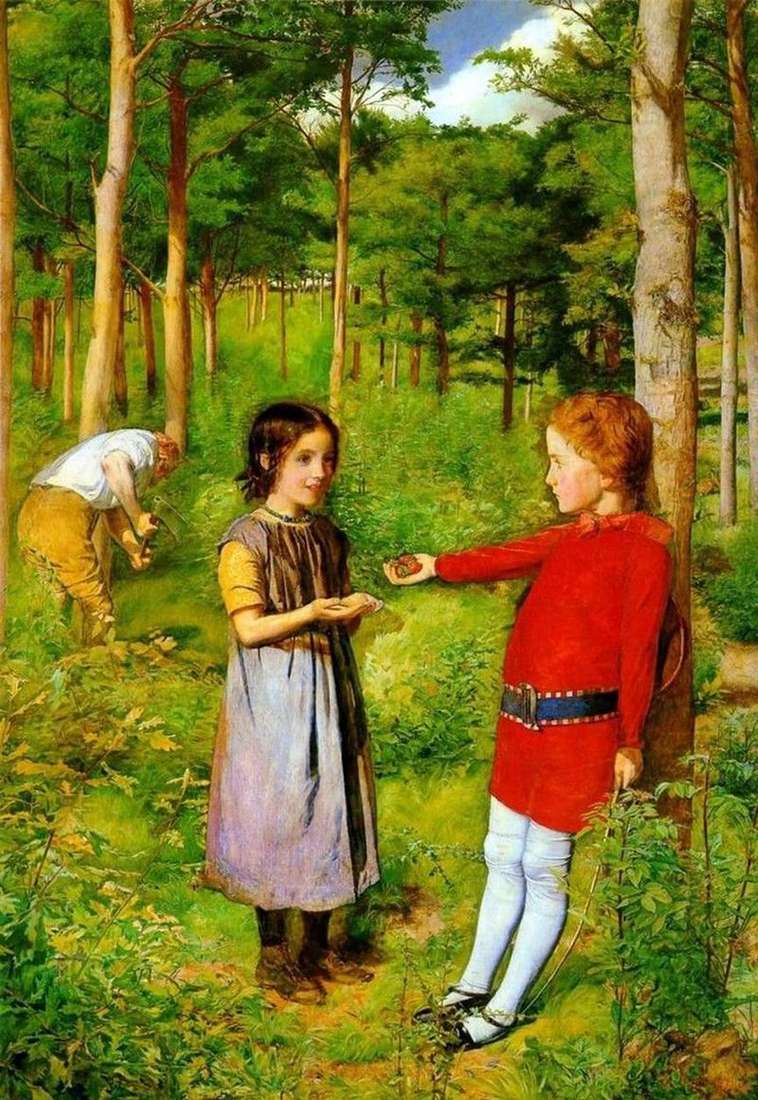 Written in the third year of the artist's presence in the ranks of the Pre-Raphaelites, "The Woodcutter's Daughter" became the second landscape of Milles after the painting "Ariel attracts Ferdinand," which most clearly among all the Pre-Raphaelite works of that period conveys a feeling of genuine fusion with nature. Difficult and ambiguous, this picture also refers to the works of old masters and modern Milles poetry and concerns the problems of social injustice.
The Woodcutter's Daughter was created in Wisem Woods, near Oxford. In his first big picture, written
in the open air, Milles laid the foundation for the techniques that were to develop later, and the style that flowed from them. He first painted the landscape completely, and then, when the weather deteriorated, he returned to London, to the studio on Gower Street, to write characters. The tense vertical position of the figures in the picture demonstrates the influence of Van Eyck's Portrait of the Arnolfini Couple, and the rapid decline in perspective, which seems to push the heroes to the fore, is a truly innovative technique.
The plot is drawn from the poem of Coventry Patmor of the same name. The woodcutter's daughter Maud, in a sense the opposite of the heroine of "Isabella," falls in love with Merton, the son of a squire. When they become adults, the social difference between them impedes any official relationship. Merton leaves the girl, she drowns the child in the river – the fruit of their love – and goes crazy. Milles depicts the first meeting of the characters: the boy offers little Maud strawberries, which the artist wrote from the berries bought at Covent Garden market. He recruited his Oxford friends and patrons, Thomas and Martha Combe, to the process, asking them to go to Botley, in the vicinity of Wisem Woods, and to get a pair of old shoes from the village girl, as well as a suitable dress. Martha and Thomas fulfilled the request of the artist. The contrast between simple,
The Daily News noted that the Pre-Raphaelites in 1851, "are in the best of grave power and adhere to their dogma with the conviction of martyrs, but at the same time evoke respect for their passionate devotion to these principles." Confirmation of this – in the vivid details of the landscape in the "Daughter of the woodcutter", as well as in the girl's original freckled face. In 1886, Milles re-painted Maud, making her face more graceful, at the request of the owner of the picture, her stepbrother Henry Hodgkinson.